This year Tralee will host the 1st annual 'Freshers Fest' from Tuesday, September 10th to Thursday, September 12th.
Freshers week has never been bigger in Tralee with IT Tralee Students Union, Kerry College of Further Education and Training, Tralee Chamber Alliance and the Institute of Technology Tralee teaming up for the biggest start to the academic year ever.
The festival will see a stage erected on the town square which will host live acts, alongside a whole host of other events across the town all geared towards welcoming fresher students to the town.
On Wednesday, Bingo Loco comes to town and will be the ultimate party to start the upcoming academic year.
Check out the full Line  - Up below:
Tuesday, September 10th  - Xero

Tuesday, September 10th - Stolen City

Tuesday, September 1oth  - The Clockworks

Wednesday, September 11th - Student Trail

Wednesday, September 11th - Bingo Loco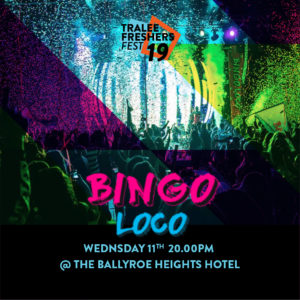 Thursday, September 12th  - BPM

Thursday, September 12th  - Gerald Ahern

Thursday, September 12th  - Daft Punk tribute