Max Ehrich addresses Demi Lovato split
It was reported last week that newly engaged couple Max Ehrich and Demi Lovato had called it quits.
Over the weekend, he released a statement on Instagram Stories addressing the situation.
Max claimed he discovered the engagement was over after reading about it in the press.
He wrote, 'Imagine finding out to the status of your relationship through a tabloid.'
'While your in the middle of filming a biopic movie about a Pastor in a Christian Church whose intention of the film is to help people.'
 

View this post on Instagram

 
Sources
However, a source told E! News the actor is, 'lying.'
They're adamant, 'Demi did tell him beforehand,' and say Max is, 'just trying to stay relevant.'
'Her family thinks he is crazy and is so relieved she has taken this step.'
A separate source told E! that she called it off because, 'they were arguing a lot.'
'There has been a lot of tension and Demi left him to get a clear head.'
'She didn't know who Max truly was and didn't think he had good intentions.'
 

View this post on Instagram

 
'There were many red flags she was ignoring and trying to turn a blind eye to.'
The insider alleged Demi's mother Diana was extremely worried about the situation.
Her close friends and family, 'were warning her about him... and wanted her to get out sooner than later. It's for the best.'
Max comments further
On Sunday, Max released another statement insisting he found out about their split through the press.
He said, 'I was on the set of my new movie, Southern Gospel, with crew and cast members right next to me who literally watched me open my phone where I then opened a tabloid.'
 

View this post on Instagram

 
The actor continued, 'This is the God's honest truth of how I found out about the ending of the engagement and have people from my film who saw the whole thing go down and helped me get back into character to continue my job.'
'I had cast and crew with families relying on me to do my job.'
 

View this post on Instagram

 
Max wrote, 'That being said, please end this narrative and focus on more important issues in the world.'
'I love and forgive everyone involved.'
'Let us be. Let us heal. God bless,' he concluded.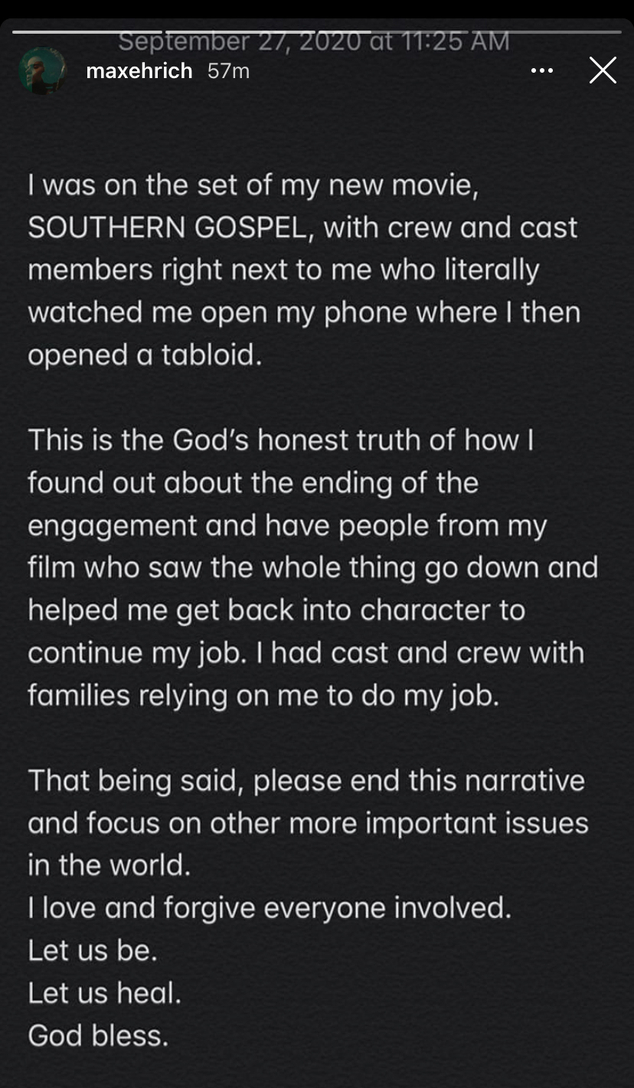 Demi and Max have removed all evidence of their relationship from social media.
She has yet to comment.