Wake up with the most music in the morning ..... and the most craic.
Get the most SHOCKING headlines in the morning with the 7 O'Shock News, weekdays from 7am, followed by Ed & Valerie going head to head with 'Throwback Track'. 
The SPIN South West Secret Sound is played every morning.
Think you know the sound? Tune in at 8.30am.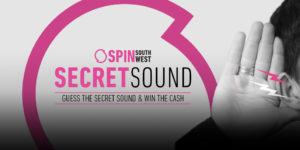 You want to wish happy birthday to a loved one, shout out your friends on the way to school, or call out that absolute BEURE you saw on the bus? Then Ed & Valerie have you covered with 'You Texty Thing' – get your shout outs into 087 7 102 103!
Fancy listening to a 'Noughty Threesome' at 9am?... Or why not even get involved and pick the song. They could always do with a hand!
Get your brain up and running with our teaser – everyone loves a 'Morning Hard One'!
As if that wasn't enough, they've got some of the biggest stars, the hottest tunes and the best banter in the South West. Wake up with the most music in the morning.
Sponsored by