The 2020 Emmys
The 2020 Emmys took place last night.
Jimmy Kimmel hosted the ceremony, which was made virtual by the global pandemic.
So much happened during last night's event, so here's a look back at some of the highlights:
Jimmy Kimmel's monologue
Jimmy Kimmel hosted last night's first ever virtual Emmys.
He opened his monologue, "Hello and welcome to the pandEmmys!"
Clips of the audience from previous years were placed throughout his monologue, making it look like the celebs were actually there.
Jimmy played into this, "Thank you for risking everything to be here."
"Thank me for risking everything to be here..."
He continued, "You know what they say, you can't have a virus without a host."
Jimmy added that it, "might seems frivolous and unnecessary to do this during a global pandemic."
But he pointed out that, "it's fun, and right now we need fun."
Jimmy talked about what a horrific year it's been for everyone.
But amid all the madness, we found a friend, "who's there for us 24 hours a day; our old pal television."
"... for everyday of your 600 pound life, television is there for you."
Jason Batman's appearance
A little later in Jimmy's opening monologue, he finally acknowledged that he's not actually addressing a real audience.
Instead, they replaced the crowd with cardboard cut-outs of our favourite stars.
Except one of the cut-outs wasn't a cut-out at all, it was Jason Bateman in the flesh.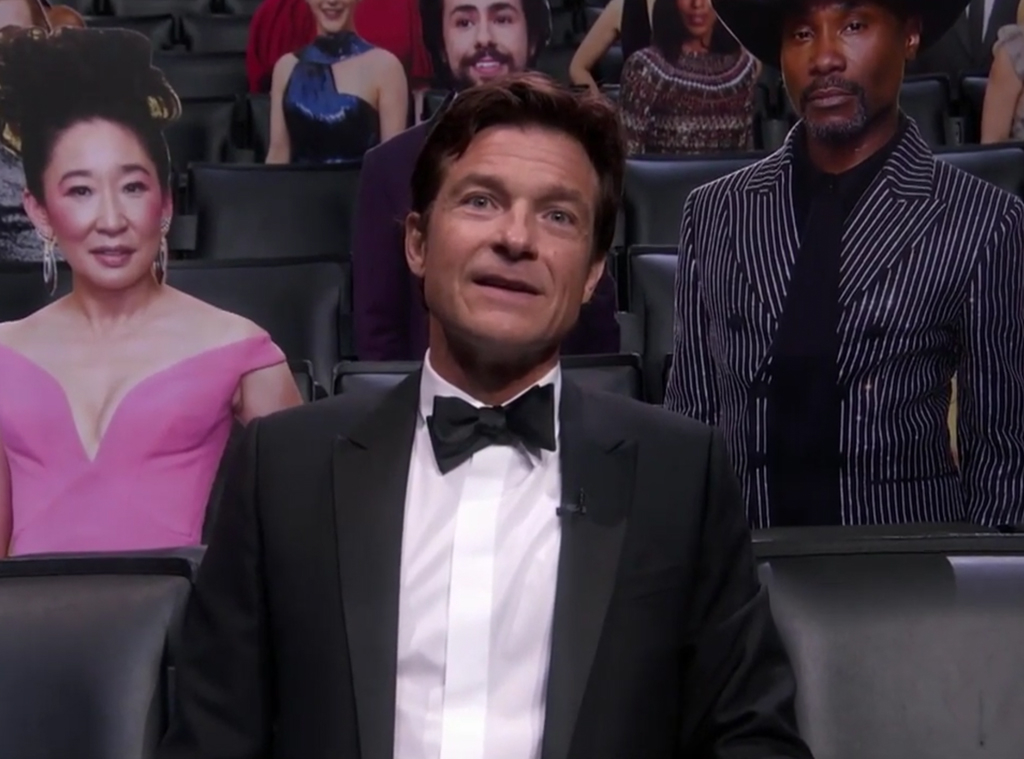 He sat very still, but Jimmy saw right through his disguise.
The host told him, "You can stay as long as you promise to laugh at my jokes."
Watch Jimmy's opening monologue here:
A Friends reunion
We were treated to a mini Friends reunion at last night's Emmys.
Courteney Cox, Jennifer Aniston and Lisa Kudrow appeared on video chat.
At first, Jimmy thought he was just speaking to Jennifer, until Courteney popped her head around the corner.
The host asked, "Courteney's there?" The Monica Geller actress replied, "Of course I'm here. We live together."
Jennifer added, "Yeah, we've been roommates since 1994 Jimmy, hello!"
Then Lisa Kudrow jumped in and asked, "Is this live TV?!"
Jimmy exclaimed, "You live there too?!" Lisa replied, "Yeah? Where else would I live?"
He replied, "I don't know, with your family maybe?"
Watch the full video here:
https://www.youtube.com/watch?v=BVd5jH1uWRg
Jennifer Aniston puts out a fire... literally
Jimmy took all the precautions when presenting the Emmy for Outstanding Lead Actress in a Comedy Series.
He sprayed the envelope down, placed it in a bin and set it on fire to ensure all germs had been killed off.
It was up to Jennifer Aniston to put the fire out with an extinguisher.
The New Years Eve party
Reese Witherspoon and Kerry Washington hosted a News Years Eve party to celebrate the Emmys.
They wore 2021 glasses and cracked open some champagne for the event.
Reese explained, "We're ready for this year to be over."
Celebrities in quarantine
Jimmy shared a collage of videos showing celebs revealing what they've been up to in quarantine.
Kenan Thompson, Bob Odenkirk, Mindy Kaling, Ty Burrell, Will Arnett, and loads more appeared on camera.
Watch the full video here:
For the full list of winners and speeches, go here.