Liam Reardon & Millie Court
Love Island's Liam Reardon has shared how he's getting on since his split from Millie Court.
It's after a fan checked in on him in an Instagram Stories Q&A: 'How you doing mate?'
 

View this post on Instagram

 
Liam responded, 'A lot of you asked this. I'm doing good so thank you to all that asked.'
'It's been a difficult few months with moving from my home in Essex to moving back to Wales and now back living back in Essex on my own.'
'Break-ups can be very hard and being in the public eye just makes it that extra bit more difficult to deal with, especially when you have rumours etc. coming out and people judging your character off something which isn't true.'
 

View this post on Instagram

 
'But I've been down – and when you're down you can either stay down or do what you can to pick yourself up, dust yourself off and move forward. And that's what I'm doing.'
'Just want to say love to all you guys who follow and support me, especially over these past few months, it means the world,' he concluded.
 

View this post on Instagram

 
Millie and Liam met in the Love Island villa last year, and continued their relationship outside before announcing their split in July.
She confirmed their breakup in a statement on Instagram: 'Hi everyone, to avoid any speculation, Liam and I wanted to share with you that we have separated.'
Read her full statement here: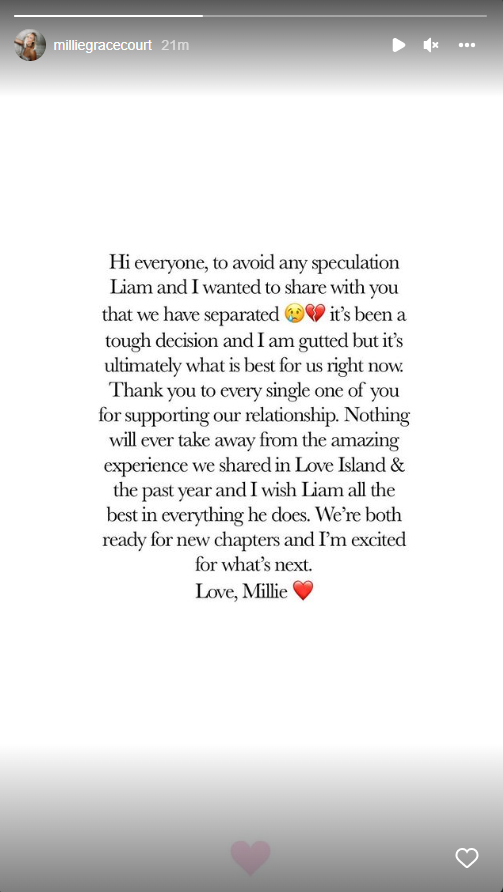 Just last week, Millie also gave her followers an update on how she's been getting on.
The former flames shared a home together before their breakup, and she still lives in the same apartment.
In an Instagram Stories Q&A, a fan asked, 'How's it like living on your own?'
 

View this post on Instagram

 
Millie replied, 'I mean, it's not the best thing in the world atm.'
'I need to start loving my own company again.'
'Sometimes I do, but majority of the time I have people over or I'm out to keep myself busy.'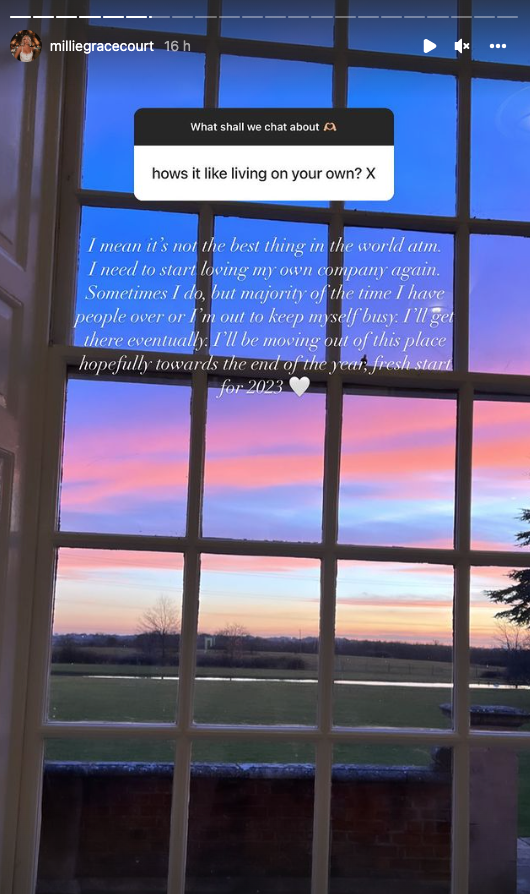 'I'll get there eventually, I'll be moving out of this place hopefully towards the end of the year, fresh start for 2023.'