Chris Brown lashed back at Offset after he called his 21 Savage meme 'lame.'
Chris Brown is not one bit impressed by Offset's comments on his 21 Savage meme.
The rapper 21 Savage was arrested after reportedly overstaying his visa.
His good friend Offset has been very vocal about his dislike for the memes.
 

View this post on Instagram

 
Offset commented on Chris' post, 'Memes ain't funny lame.'
Brown responds, 'F**K YOU LIL BOY. BETTER WORRY ABOUT WHAT U GOT GOING AND FOCUS ON "YOU".'
'All this cap on IG IS WHATS LAME.. YO ENERGY WONT LIKE THAT WHEN I CAME TO THE DRAKE SHOW IN LA....'
 

View this post on Instagram

 
He goes on, 'SENSITIVE A** N****.. CALL ME PERSONALLY.'
'U WANT SOME CLOUT WHEN ALL YOU GOTTA DO IS PULl UP No camera no flexing and all that!!!!!'
'IF YOU A REAL MAN FIGHT ME. Oh and another thing, SUCK MY D***!!!!'
 

View this post on Instagram

 
Offset's Response
Offset didn't directly respond to the comment but perhaps his most recent Instagram Story was a response in itself.
He wrote, 'Coke head don't want' followed by a smoke emoji.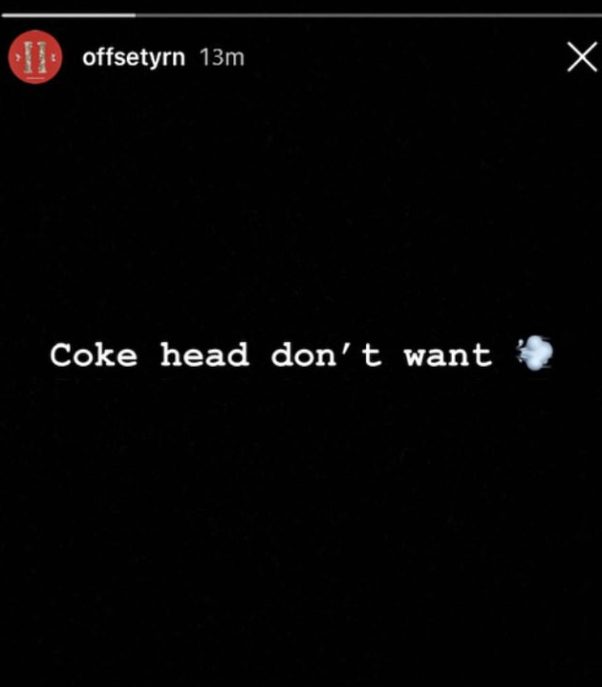 At this point Chris was still absolutely furious with Offset.
He shared a screenshot of their row on Instagram Stories.
'If he don't get his earth wind and fire pootytang space suits wearing cap a** lil boy da f*** out my comments and off my d***.'
A similar incident happened with Demi Lovato which lead to the deletion of her Twitter account.
Read more on that here.