The Department of Health has confirmed a further 767 new cases of Covid-19.
The Department has confirmed two further deaths in the past 24 hours.
In total there have been 1,917 Covid related deaths since its outbreak in March.
Of the cases notified today, 355 are men while 411 are women.
Most cases - 68% - are under the age of 45 while 33 is the median age.
767 new cases of Covid-19 detected in the past 24 hours.

2 new deaths reported by @roinnslainte

322 people in hospital with the disease - 44 in ICU.

1,260 new cases reported on the island of Ireland today.

Briefing with @CMOIreland Dr Holohan starting now.

— Ben Finnegan (@_BenFinnegan) November 2, 2020
CMO Says Easing of Level 5 Restrictions Is Unlikely
Dublin has the highest number of cases with 321.
Elsewhere, there are 41 new cases of coronavirus in Cork, 47 in Meath, 34 in Limerick and 24 in Roscommon.
The remaining 257 cases are spread across the country.
The approximate 14-Day incidence rate is 248 per 100,000 population.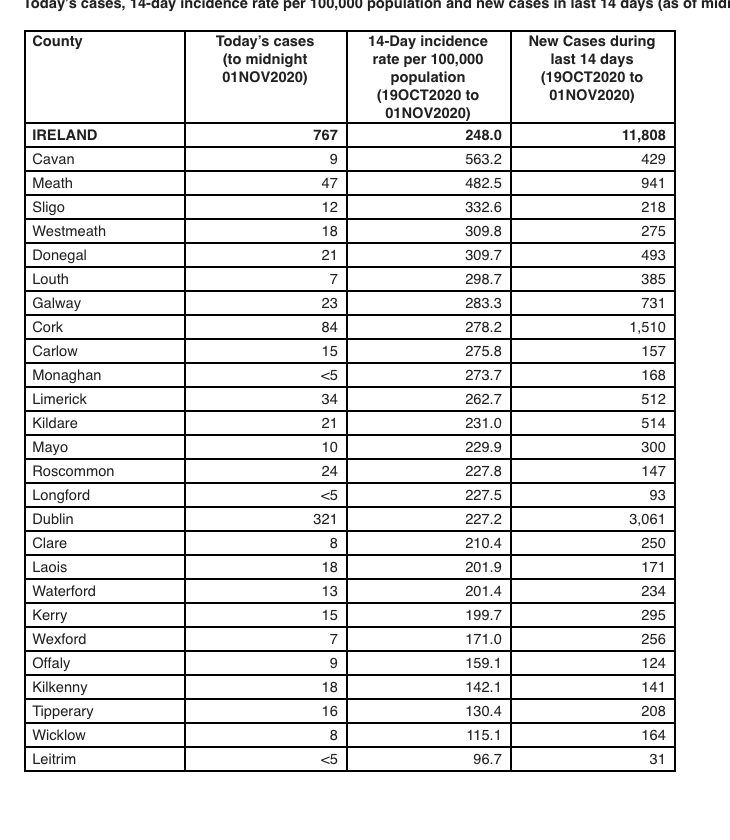 322 people with the virus are being treated in Irish hospitals, 44 of which are in intensive care units.
16 new patients were admitted in the past 24 hours.
Chief Medical Officer, Dr Tony Holohan said the lower case numbers is due to "the hard work Irish people are doing."
He says its unlikely that Level 5 restrictions will be eased early bit he'd never rule anything out.
"We're less than two weeks in to the [Level 5] measures  - it's far too early to say that we're satisfied with where we're going."
"We need to keep going to push down the virus transmission," he added.