Mads Mikkelsen takes over from Johnny Depp
Warner Bros. have announced Mads Mikkelsen as Johnny Depp's replacement in Fantastic Beasts.
He'll take over the role as Dark Wizard Gellert Grindelwald in the upcoming third movie.
Mikkelsen is best known for his roles in Hannibal, Casino Royale and Rogue One: A Star Wars Story.
He'll take over from Depp, who was asked to resign from the role earlier this month.
It's after he lost his libel case against The Sun newspaper.
Depp's statement
The actor announced he'd be leaving the franchise in a statement on social media.
He wrote, 'In light of recent events, I would like to make the following short statement.'
'Firstly, I'd like to thank everyone who gifted me their support and loyalty.'
He continued, 'Secondly, I wish to let you know that I have been asked to resign by Warner Bros. from my role as Grindelwald in Fantastic Beasts and I have respected and agreed to that request.'
'Finally, I wish to say this. The surreal judgement of the court in the UK will not change my fight to tell the truth and I confirm that I plan to appeal.'
'My resolve remains strong and I intend to prove that the allegations against me are false.'
'My life and career will not be defined by this moment in time,' Depp's statement concluded.
The petition
This announcement from Warner Bros. comes weeks after fans launched an online petition demanding Depp be reinstated.
Thousands of loyal fans are threatening to boycott the movie if he isn't in it.
The change.org petition's description reads, 'Johnny Depp was asked by Warner Bros to resign and leave his role of Grindelwald in the Fantastic Beasts 3 movie.'
It continues, 'This happened because of the verdict of his case with "The Sun" tabloid that was completely unfair.'
'We want him back! Warner Bros should listen to the public or we will boycott the movie!!!'
At the time of writing, 230,701 people have signed the online petition.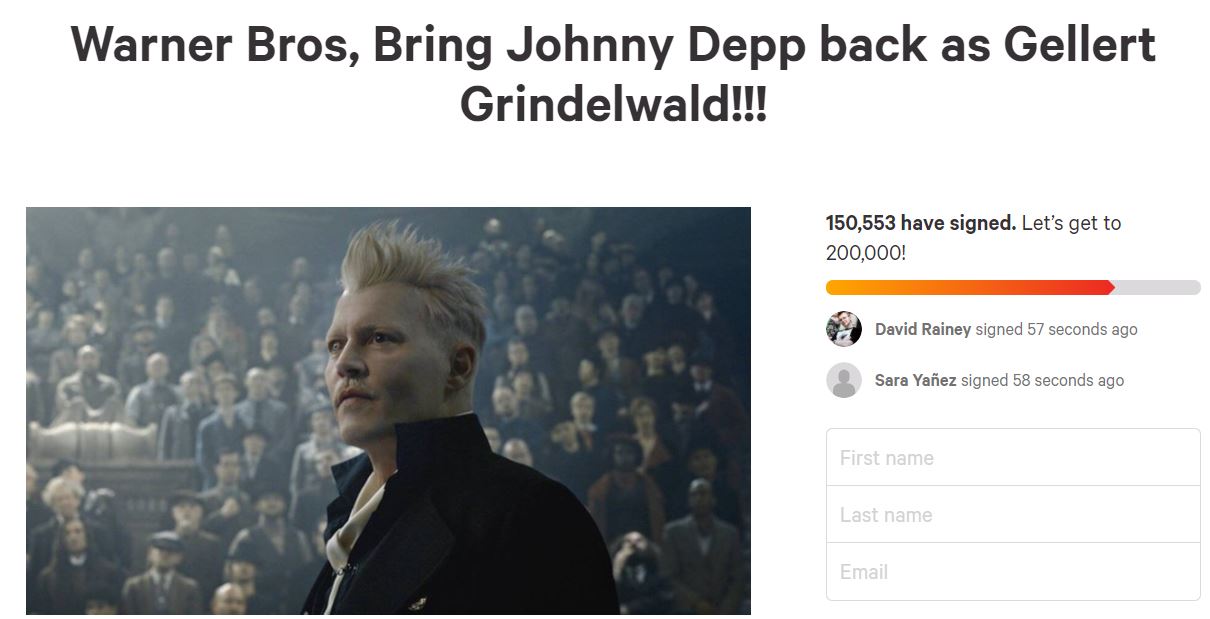 To find out more about Depp's libel case, go here.
Meanwhile, the third Fantastic Beasts movie is due out July 15th 2022.