Lasta, A National Arts Programme For Young People By Young People
Presented as part of Brightening Air | Coiscéim Coiligh, a nationwide, ten-day season of arts experiences brought to you by the Arts Council.
In a new innovative approach to programming, twenty-one young curators have been engaged by the Nasc venues to programme a festival of work for children and young people from11th to 20th June 2021.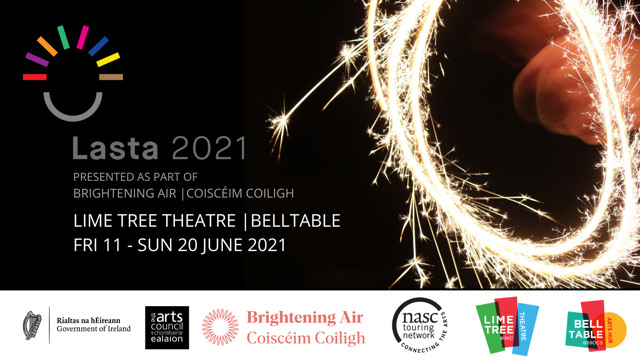 Under the guidance of theatre artists Maisie Lee and Fionn Foley, these young people will work collaboratively to deliver an ambitious programme of work for young people across the country.
Featuring multiple disciplines and reflecting the diversity of modern Ireland, this pioneering project offers a unique opportunity to develop our future arts programmers and producers.
The two Young Curators who will programme Lime Tree Theatre | Belltable contribution to Lasta are Mamobo Ogoro and Stephen Hartigan.
Open Call 1:
Are you a young Limerick artist, musician, performer, poet or dancer? If so, we are looking to showcase your work as part of Lasta 2021, 11th – 20th June!
Please fill the following form to sign up and show us your work: click here or email [email protected]. Deadline to apply: 14th of May 2021.
Open Call 2:
An opportunity to take part in an exhibition in Limerick, as part of a nationwide festival called 'Lasta' taking place in June.
The work will be exhibited online, due to Covid-19 restrictions.
This is a great opportunity to get your name out there, as we shall promote all selected applicants on our social media and give them an audience to witness their work.
Participants work will be photographed, filmed and they will be asked to do a short interview about their creative process and their work.
3 artists within the exhibition will be chosen to receive a prize by a panel of visual artists from the young curator's programme.
Who Can Enter?
Visual Artists based in Limerick, over 18 years old.
Open but not limited to Painting, Sculpture, Print, Textiles, Photography, Fashion, Ceramics, Film & Digital Art.
In your application please include:
A short proposal outlining your project in less than 300 words.  An Artists CV and Statement Up to 3 Image or Video examples of the work you plan to present. With the dimensions and medium of the work.
Please send all applications with the subject line "Visual Arts Festival" to [email protected] by 4pm on the 14th of May
To see the full Brightening Air | Coiscéim Coiligh programme, visit www.brighteningair.com.