Rita Ora releases public apology
Rita Ora has released a public apology.
It's after she attended a, 'small gathering,' for her 30th birthday over the weekend, despite current restrictions.
According to Sky News, Rita celebrated the milestone with 30 friends.
Scotland Yard confirmed with the news outlet that officers had been notified of a breach of restrictions in the Notting Hill area on Saturday night.
The apology
After facing backlash online, the For You singer took to Instagram Stories to apologise.
In a statement, Rita wrote, 'Hello all, I attended a small gathering with some friends to celebrate my 30th birthday.'
'It was a spur of the moment decision made with the misguided view that we were coming out of lockdown and this would be OK…'
Rita continued, 'I'm deeply sorry for breaking the rules and in turn understand that this puts people at risk.'
'This was a serious and inexcusable error of judgement.'
'Given the restrictions, I realise how irresponsible these actions were and I take full responsibility.'
'I feel particularly embarrassed knowing first-hand how hard people have worked to combat this terrible illness and being fully aware of the sacrifices that people and businesses have made to help keep us all safe.'
'Even though this won't make it right, I want to sincerely apologise.'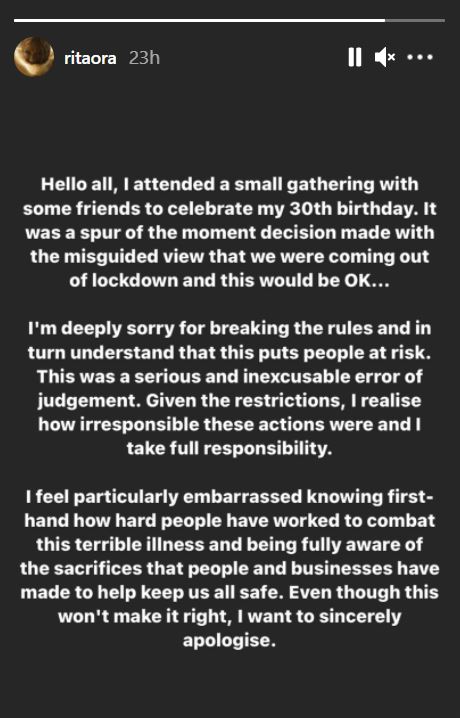 Instagram Stories @ritaora
No further comment has been made.