Life's What You Make It
Phillip Schofield has announce he's releasing his autobiography Life's What You Make It this October 15th.
He shared the news in a video posted on Instagram last night.
The This Morning host said he's always wanted to write an autobiography.
He explained that he wrote the first line of the book when he was just 14.
"I knew exactly how I wanted it to start, should I ever write it."
"And you know why..."
In 2017, Phillip wrote the very first chapter, which his close friends raved about.
They told him he had to finish the book, but he couldn't. He said, "And you know why."
The 58-year-old came out as gay in an emotional Instagram post in February.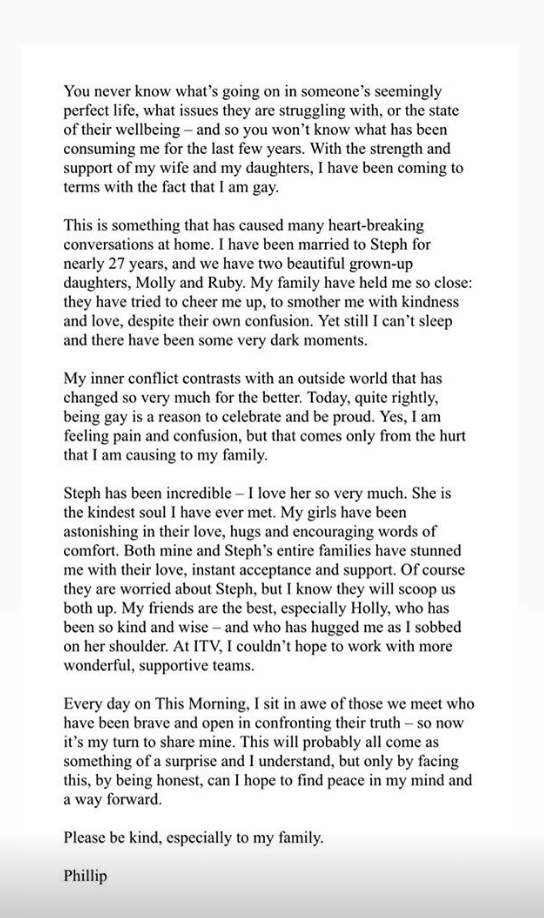 Instagram Stories @schofe 
Phillip has been married to Stephanie Lowe for nearly 27 years, and they share two daughters.
He admitted at the time of his coming out that he was, 'feeling pain and confusion,' over the hurt he's caused his family.
But they stood by his side regardless, 'they have tried to cheer me up, to smother me with kindness and love, despite their own confusion.'
Lockdown
With all his free time in lockdown, Phillip decided to focus his energy on finishing his book.
'Over the years I have been making notes of the stories and events of my life that I thought would tell my story.'
'Finally, in Lockdown, I knew that all the pieces of the jigsaw had been put into place and I was ready to write...'
In the post's caption, Phillip wrote, 'It has been a fascinating experience, both immense fun and deeply emotional.'
'Finally, after all these years, I'm happy it's gone from my head, to the page.'
In the video he revealed the book will take us behind the scenes of his life, his career, his family, his friends and all the ups and downs.
He began to wrap up, "And so I've been honest, and I've been me, and it's done."
"And I've discovered that at the end of it, life is indeed what you make it," Phillip finished.
 

View this post on Instagram

 
Life's What You Make It drops this October 15th.