Laura Anderson slams online trolls
Laura Anderson has hit back at online trolls for saying she looks unrecognisable in a recent Instagram post.
The post in question was shared by her former Love Island co-star Jack Fincham.
He captioned it, 'Loved filming with my favourites today'
 

View this post on Instagram

 
Many took to the comments section to criticise Laura's appearance in the photo.
It wasn't long before the reality star herself responded.
She wrote, 'To all the fu**ers that want to comment negatively on my appearance. Go f**k your selves'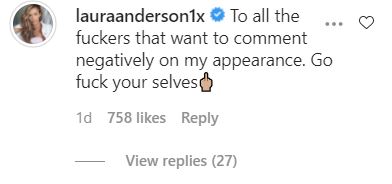 Laura later took to Instagram Stories to address the issue, "I've purposefully put no silly filter on this."
As quoted by the Mirror, she said, "Yesterday I had such a good day filming with Jack and Alex."
"And then Jack put up a picture of the three of us, which obviously is like, cute, but I got so much abuse."
 

View this post on Instagram

 
She continued, "Like, 'Laura doesn't look like Laura any more.'"
"It's really not nice to read all those comments and I just think people need to get over the fact that a picture is just a picture."
"I wanted to come on here with no makeup on and I think I look fine, so thanks for the abuse."
 

View this post on Instagram

 
'What's going on, isnt ok!'
Laura didn't stop here. She also shared a post on Instagram about the issue.
She wrote, 'What's going on, isnt ok!'
'Media is directly contributing to the loss of life no matter how you want to sugar coat it!'
 

View this post on Instagram

 
Laura continued, 'Luckily I have high self esteem but not all girls/woman do so I have to speak out.'
'These ridiculous stories scrutinising a woman's appearance is telling trolls it's ok to do the same.'
'It's NOT OK and We as woman should NOT accept it!'
 

View this post on Instagram

 
Meanwhile, Laura recently opened up about her experience getting a boob job, and how she immediately regretted it.
Read more here.