Kim Kardashian who had her very own selfie book has now admitted she doesn't like them anymore.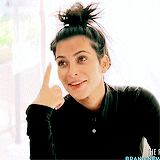 Kim appeared was interviewed by Sam Ruben on "This Morning". 
When his producer asked for a picture with her she refused, saying: "I don't take selfies anymore, I don't really like them anymore. It's not all about taking selfies, I used to spend too much of my time taking selfies."
Asked why, she replied:"I would just like to live in real time a little more. I don't mind pictures, but I'm just on my phone as much anymore."
Over the years Kim has become well known for her selfie antics even posing nude in some of them.