Chloe Ferry accuses Sam of cheating
Geordie Shore's Chloe Ferry announced her split from Sam Gowland over the weekend.
It's been alleged Sam's jealousy over Chloe's popularity and income caused the split.
However, Chloe has since accused him on Instagram of cheating on her.
 

View this post on Instagram

 
She made the accusation after facing backlash online for her recent bikini video.
"People are going mad at me for posting that video in a bikini but they don't know the half of it."
"I have had so many messages off girls when we've been together, me and Sam, that he's cheated on us..."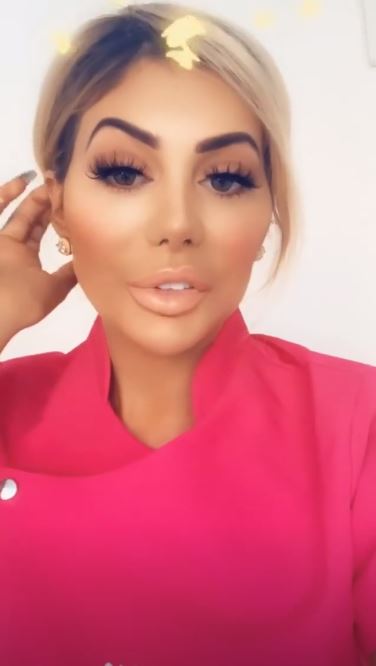 "And I've had more now since we broke up. People just need to calm the fu*k down..."
"I am just trying to get on with me life and be a little bit sexy and I am getting s**t for it."
"But I am not the one who cheated."
 

View this post on Instagram

 
Chloe & Sam
Chloe and Sam started dating in October 2017 when they met on Geordie Shore.
Just a couple months after they made their relationship official, they got tattoo's of each other's names.
 

View this post on Instagram

 
Sam had even thought about proposing to Chloe.
He told Star magazine last year that, 'it will definitely happen one day.'
'I've never wanted it with other people, but we both want it.'
'We really do want to be together. I've never felt the way I do about Chloe.'
In November last year they appeared on the MTV show Just Tattoo Of Us. 
Chloe had them tattoo a portrait of her face on his leg.
Check out his reaction:
 

View this post on Instagram

 
It all seemed to be going well until Chloe announced their split on Instagram over the weekend.
She shared the news with her 3.1 million followers.
'It hurts me to say this but me and Sam have gone our separate ways.'
'We are still friends. Things carry on as normal.'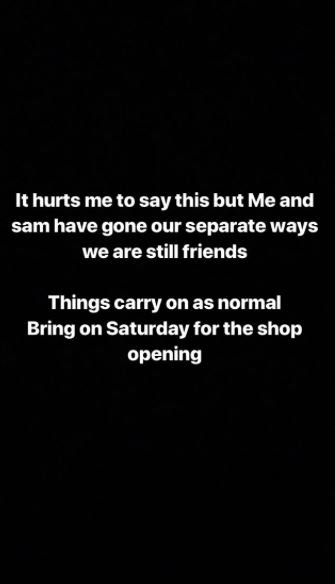 Just this week, the official Instagram account for Geordie Shore shared a clip from the upcoming episode.
We see Chloe break down in tears as she opens up about her insecurity to Sam.
'This was so tough to watch!'
 

View this post on Instagram

 
Sam hasn't yet made any comment on the breakup.