Dublin's MetroLink won't be operational until at least 2031.
While the DART underground project has been shelved.
So that's part of an updated transport strategy for the Greater Dublin Area.
This 20 year-plan will run until 2042.
It sets out proposals for improving cycling, walking, buses, the road network and rail services in the Greater Dublin area.
Under it the MetroLink, as well as LUAS lines to Finglas, Lucan, Poolbeg and Bray won't be delivered until after 2031.
So that's during the second phase of the strategy.
While the Dart underground, linking Heuston station with the docklands, has been removed from the plan.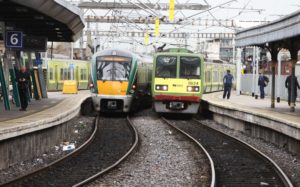 This Has Been "Coming" For Fifty Years
Feljin Jose from the Dublin commuter coalition says that's a mistake:
"The DART Underground has been on the cards for decades."
"Like from the seventies!"
"Under the current strategy, it was supposed to be completely built by 2035."
"The new strategy doesn't even plan for it's design."
"It just shelves it out to beyond 2042, at some stage where it may be built."
This is what was proposed for Dublin in 2001, to be delivered by now. By the time 2042 comes around, less than half it will be delivered, decades late and over budget. This is more than just about design constraints, this is abject political failure https://t.co/rX7BuzUxvQ pic.twitter.com/NB3wK7vq3G

— Maynard Keynes Don 🇮🇪🇪🇺🇺🇦 (@il_bondo) November 9, 2021
Cost More Than Doubled
The plan was originally due to cost 10 billion euro.
That's increased to 25 billion. Hugh Creegan is from the National Transport Authority;
"I think with the elapse of time, the construction inflation and the greater knowledge about the level of contingency and risk to building to cost estimates."
"That's why you're seeing the figures we have today."
Meanwhile designs are to be put together for 8 LUAS extensions or new lines that would be ready to be built after the strategy ends in 20 years time.
Public consultation on the draft strategy will run until December 17th.