Foreign languages are set to hit schools by September 2025.
It's part of a reform of the primary school curriculum.
It's the first time the primary school course has been reviewed since 1999.
Do you speak French like Joey?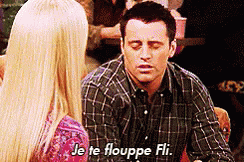 Ich Bin Ein Berliner
Well, in an effort to improve the standard of foreign languages in Ireland, they're set to become part of the primary school curriculum.
The rollout of additional languages is expected to happen by September 2025.
Minister of State at the Department of Education Josepha Madigan outlines some of the choices which will be on offer.
"Whether it's Ukrainian, Portuguese, Romanian, French and ISL - which is Irish Sign Language."
Best Age
Maud Cunningham from the Language People has been teaching German to primary school kids since 2008 and says it's the best age to start.
"The amount of vocab!"
Maud says the level the children's' vocabulary reached after a short time was "unbelievable."
"That stage, in Primary School, it's the ideal time!"

Songs And Numbers
These kids from Carriglea National School near Dungarvan in County Waterford are among those who've already started to learn a new language.
"I liked when we were learning songs," one of them said.
Another added, "my sister is learning German in school, I was saying the numbers and she told me I'm getting the hang of it really well!"
The move is one of several changes included in a new framework for the primary curriculum.
It is expected to be published by the Department of Education this year.