All four children's hospitals in Dublin are at 'critical capacity' and are urging parents to seek minor care elsewhere.
Services at Temple Street, Crumlin, Tallaght and Connolly Hospitals are under 'extreme pressure.'
Children's Health Ireland, which operates the Hospitals, says it's working very hard in extremely challenging circumstances.
The group says a 'perfect storm' of viruses are circulating in the community at the moment.
It says lockdown measures to protect from Covid-19 means children born during the restrictions haven't experienced illness until now.
Children's Health Ireland clinical director, Ike Okafor, explains why so many sick babies are being brought to emergency departments:
"We're still seeing a lot of the respiratory viruses."
He says a lot of focus was put on RSV last month, and that's still an issue, but it's starting to reduce.
"But influenza is starting to peak, and it's a host of other viruses."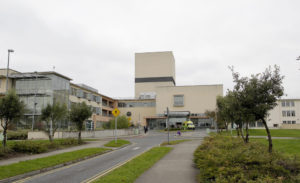 Minor Illnesses
CHI says resources must be focused on those children who need it most.
Those with minor illnesses or injuries should seek care in a GP surgery or a pharmacy.
CHI is also urging parents to get their children vaccinated against the flu - it's available for free.
The hospital operator says it 'cannot thank staff enough' for their efforts, which are beyond the call of duty.
However it added very sick or injured children should be brought to an Emergency Department.