Times Up Globes
You may have seen a number of celebs speaking out in support of the Times Up Globes movement.
If you're unsure of what it is, this article should clear up any confusion.
 

View this post on Instagram

 
The 2021 Golden Globe Awards took place last night.
Many stars have been speaking out over the lack of black representation in the Hollywood Foreign Press Association.
Out of 87 members, not one person is black, and Hollywood has had enough.
Times Up
The official Times Up social media account shared an image ahead of the ceremony.
It reads, 'Hollywood Foreign Press Association: Not a single black member out of 87.'
'#TimesUpGlobes'
 

View this post on Instagram

 
Following the backlash, the HFPA released a statement to the Times.
As quoted by The Hollywood Reporter, they said, 'We are fully committed to ensuring our membership is reflective of the communities around the world who love film, TV and the artists inspiring and educating them.'
'We understand that we need to bring in black members, as well as members from other underrepresented backgrounds, and we will immediately work to implement an action plan to achieve these goals as soon as possible.'
Shortly after the statement was made, Times Up tweeted, 'A cosmetic fix isn't enough'
Hollywood's biggest celebs have been showing their support for the movement by re-sharing the Times Up post with their followers.
Amy Poehler & Tina Fey
Even Golden Globes hosts Amy Poehler and Tina Fey slammed the HFPA in their opening monologue.
 

View this post on Instagram

 
Fey said, "The Hollywood Foreign Press Association is made up of around 90 international, no-Black journalists who attend movie junkets each year in search for a better life."
Watch their full opening monologue here:
Other celebs showing their support
Jennifer Aniston
In an Instagram Stories post, Jennifer showed her support for the movement, 'A cosmetic fix isn't enough.'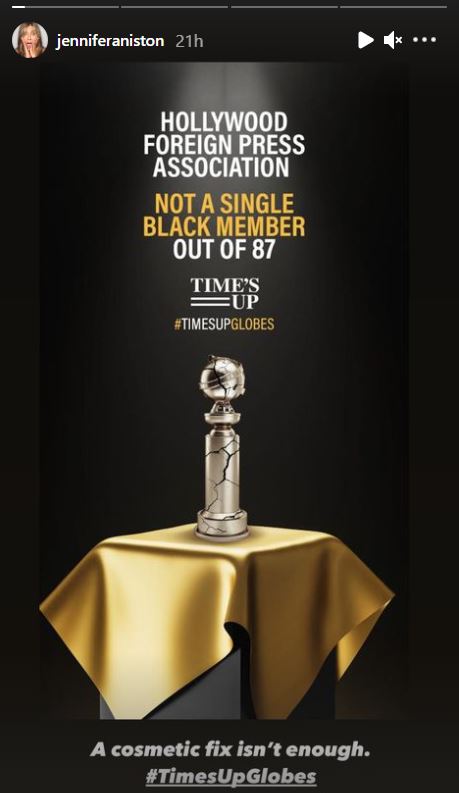 Ava DuVernay
Ava DuVernay released a statement on Twitter.
She insisted, '...everyone must have balanced access and consideration so that the playing field can be more equitable for artists of all kinds, colors and cultures.'
My two cents. #TimesUpGlobes pic.twitter.com/WrrEu1cvfQ

— Ava DuVernay (@ava) March 1, 2021
Amy Schumer
The comedian also shared the message on her page, 'A cosmetic fix isn't enough.'
A cosmetic fix isn't enough. #TIMESUPglobes #TIMESUP pic.twitter.com/eywtKm74iS

— Amy Schumer (@amyschumer) February 26, 2021
Mark Ruffalo
The Hulk actor shared the same message with his 19.2 million followers.
 

View this post on Instagram

 
Shonda Rhimes
Rhimes simply wrote on Instagram, 'Enough is enough.'
 

View this post on Instagram

 
Margot Robbie
Margot Robbie, who presented at last night's ceremony, also showed her support on Instagram.
'Real change means not just standing on stage and saying it, but actually doing it,' she wrote.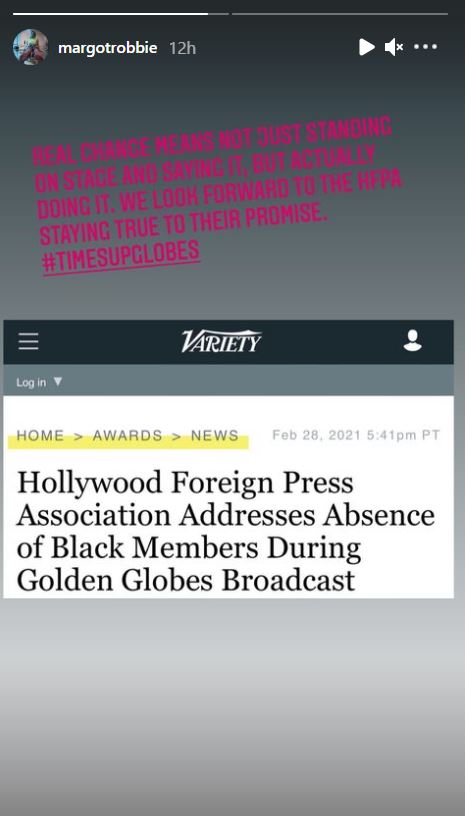 They're just a handful of the celebs showing their support for #TimesUpGlobes