Ian Somerhalder in V Wars
First look photos from Ian Somerhalder's upcoming Netflix vampire series V Wars have been revealed.
They've also announced the series will drop this December 5th.
We're getting some serious The Vampire Diaries flash backs right now.
The streaming service's horror and sci-fi Instagram account shared the images this week.
In one of the photos, we're treated to a terrifying glimpse at one of the show's monsters.
The creature is gearing up to attack a man and it looks like he's going for his neck.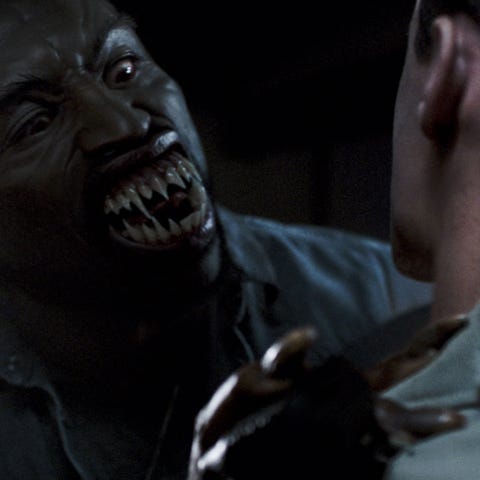 The post's caption reads, 'If there's one thing standing between me and a horde of vampires it had better be Ian Somerhalder!'
'The V Wars are coming on December 5th, are you prepared?'
V Wars
Netflix's media centre explain what the new series is all about:
'Dr. Luther Swann (Ian Somerhalder) enters a world of untold horror when a mysterious disease transforms his best friend, Michael Fayne (Adrian Holmes), into a murderous predator who feeds on other humans.'
 

View this post on Instagram

 
'As the disease spreads and more people are transformed, society fractures into opposing camps pitting normal people against the growing number of these "vampires."'
'Swann races against time to understand what's happening, while Fayne rises to become the powerful underground leader of the vampires.'
 

View this post on Instagram

 
This could be the answer to your The Vampire Diaries withdrawal symptoms.
There is, however, a massive difference between the role Ian played in that show and the role he's playing in V Wars.
Damon was an arrogant, dark, sadistic and charming Vampire.
 

View this post on Instagram

 
Whereas in V Wars, he plays the role of Dr. Luther Swann, who isn't a Vampire at all.
Somerhalder shared a picture of himself playing the role of the doctor on Instagram.
'Here he is... Would you trust this man?'
Just 35 days to go!