TY Talks takes place on Wednesday 5th May and will host 45,000 transition year students from 550 schools nationwide.
Ibec & NAPD collaborate to host "TY Talks 21". Schools from all over Ireland are encouraged to take part.
TY Talks is a virtual conference to provide insights into the world of work following a Covid-disrupted year.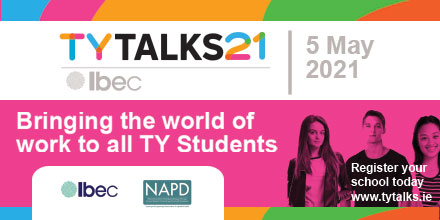 "While we cannot fully replicate the work experience for these students, 'TY Talks 21' looks to bring the world of work virtually to them, with insights from futurists, influencers, future young leaders, entrepreneurs, and business leaders."
The event blends the educational world with the world of business and ultimately looks to assist the development of students into their future pathways.
Schools interested in registering can visit here for more information.