The Heads Up Clare Website Provides Details of Mental Health Services And Youth Supports At Local Level
The Heads Up Clare website provides details of mental health services and other youth supports at local level for young people aged between 12-24 years old.
There are many things that can affect your mental health and mood, from issues with your parents, issues at school/college or worries which have gotten so big you may feel like you have the weight of the world on your shoulders.
Knowing where to go and who to talk is an important first step to feeling better.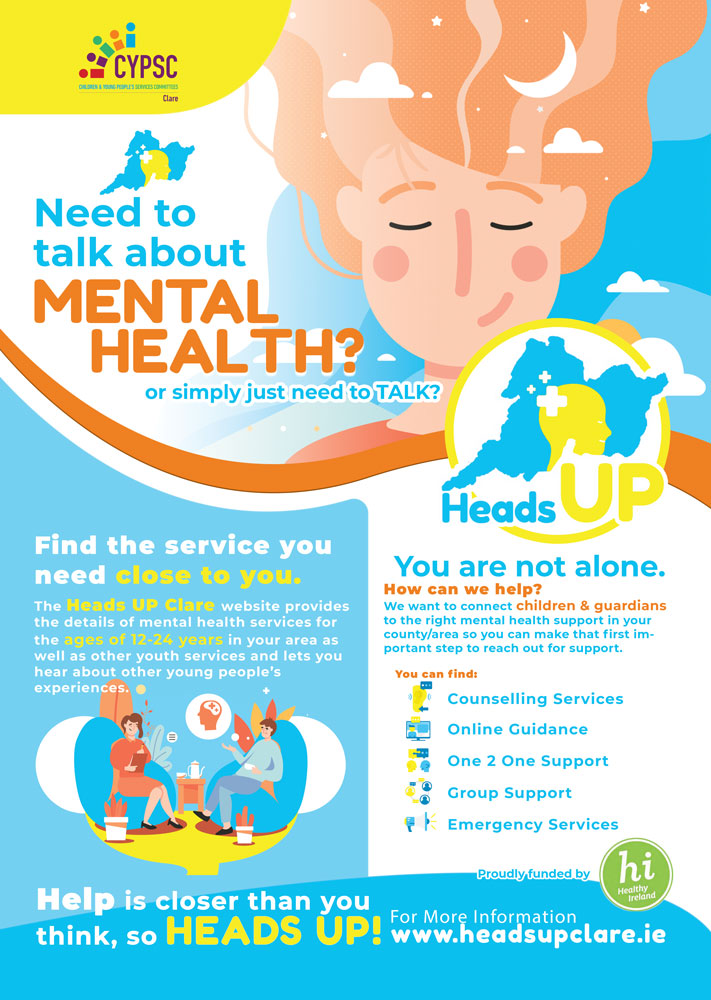 On www.headsupclare.ie you will find a range of services that offer counselling, phone support, group support and information on the issue that is causing you concern.
You no longer need to scroll through search engines to find a support service in Clare, it's all on this one, user-friendly website.
You can hear what professionals actually do to help young people in our video section, as well as find tips and advice on a whole range of issues from anxiety to addiction to friendship issues and problems at home.
Information is only useful if it can be understood and easy to access. The team behind the design of www.headsupclare.ie wanted to create a place where young people can get to what they need in the most user-friendly way.
Funded by the Healthy Ireland Community Resilience Fund and led out locally by the Clare Children and Young People's Services Committee ( CYPSC), we are proud to be signposting our young people in Clare to a place of support and understanding.
In difficult times, it's important to keep the head up and try to reach out. Help is here if you need it. www.headsupclare.ie
Useful Pages:
Facebook @clarecypsc @healthyireland
CYPSC Partners on this project were: Ennis School Completion Project, Clare Youth Service, Shannon Family Resource Centre, H.S.E Suicide Prevention Officer, Clare Local Development Company