Are you ready to spice things up for dinner?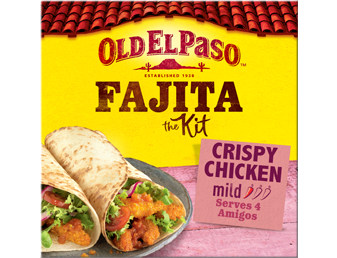 Not only are these chicken fajitas really tasty but they're also really easy to make. Ideal! If you're in the mood for something a little bit different, why not substitute the chicken for delicious prawns? 
Ingredients 
500 g chicken breast
1 crispy lettuce
Fresh, juicy tomatoes, chopped
A dollop of Old El Paso™ Squeezy Cool Soured Cream Topping
A splash of vegetable oil
Instructions 
Start off by turning the oven to 225°C (or 205°C for fan assisted ovens), gas mark 7.
Take the chicken and cut into strips.
Throw the chicken into the shaker bag with 2 tbsp of vegetable oil and the Crispy Crumb Seasoning Mix. Give it a good shake until the chicken strips are coated in seasoning.
When you're happy with your coating, lay the chicken strips on a baking tray. Throw them into the over for 18 minutes. Make sure the chicken is cooked through, golden brown and crispy. Mmmmm!
Take the Old El Paso Soft Flour Tortillas and pierce the packaging. Throw into the microwave on full power for 35 to 40 seconds OR you can heat in the oven by removing the packaging, separating the tortillas and wrapping them in foil. 10 minutes at 200°C (180°C for fan assisted ovens), gas mark 4 should do it. Keep them covered until ready to serve.
When you're ready for the main event, take the chicken out of the oven and lay them on the warm flour tortillas. Add a dollop of Old El Paso™ Squeezy Soured Cream, some juicy tomatoes, crunchy lettuce and Old El Paso Mild Original Salsa.
ENJOY!
Ed and Valerie have taken to the kitchen for the Fajita Faceoff  with Old El Paso! Each week they're set to 'Make Some Noise', cooking up a storm and going head-to-head to see who can make each recipe the best.
Vote for your favorite and you could win an Old El Paso hamper of your very own to recreate one of Ed and Valerie's recipes or even come up with something totally unique.
Check out the video below and vote here..
 

View this post on Instagram