Well, I know who I'm flying with on my next hol!
Jet2 have just made flying a whole lot more pleasurable for Nando's fans, introducing the opportunity to get your PERi-PERi fix while your plane is in the air.
The future is here and it's full of chicken.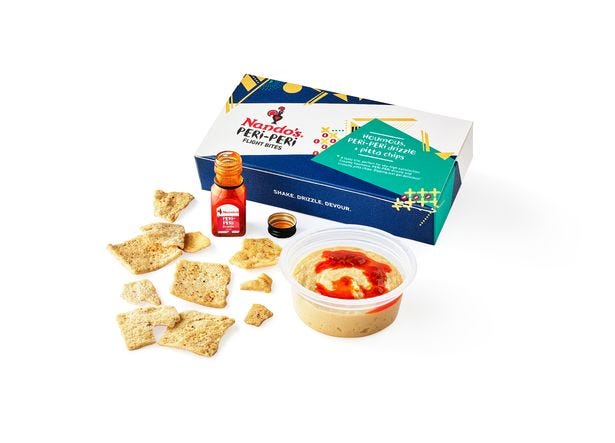 The UK airline is the first to serve food from the restaurant on their flights, introducing two snacks infused with Nando's PERi-PERi spice.
Nando's Peri-Peri Flight Bites include a dip & dunk 'Nando's Box', which involves their infamous houmous, Peri-Peri drizzle and salted pita chips and so much more!
Speaking of the new products, a Jet2 spokesperson revealed some of the snacks will also feature restaurant vouchers, saying;
"To give customers even more reason to feel sky-high with excitement this summer, Nando's vouchers can also be found in selected Nando's boxes onboard, entitling one person to a free Nando's meal.
The new in-flight menu is Jet2.com's biggest and best yet, with a number of new additions to give customers more choice and variety than ever. Following the introduction of its first ever in-flight vegan meal earlier this year, the warming and hearty penne arrabbiata pasta dish, the company has added the vegan and gluten free "Gnaw" chocolate bar, with Nando's Half-popped Corn also suitable for vegans."
*Books Jet2 flight to anywhere*