Due to the rapid expansion of its facility in Limerick, Analog Devices International (ADI) is providing new career opportunities in Raheen.
ADI is set to host a Careers Fair at its European headquarters in Raheen, Limerick, to give people an opportunity to explore Life at ADI.
Taking place on 22 September, the Careers Fair is open to everyone, from Leaving Cert qualified all the way to Ph.D. level.
The global firm has openings across a range of disciplines at every level.
Jim Nagle, Senior Director – Manufacturing Global Operations & Technology, Analog Devices, said, "So we're welcoming everyone to come along and use this opportunity to visit our campus, meet the team and discover what it's like to work for a global firm that challenges the limits of what's possible."
ADI was one of the first US high-tech companies to establish a presence in Ireland in 1976 and has become an employer of choice.
Now employing over 1,200 people at its original and main Irish hub, Analog Devices in Limerick is home to ADI's European-based Research and Development center and Ireland's global operations manufacturing facility.
A global leader in high-performance semiconductors for signal processing applications, ADI's products play a fundamental role in converting real-world phenomena such as temperature, motion, pressure, light, and sound into electrical signals to be used in a wide array of applications.
The Irish operation holds a formidable presence on the Irish technology scene and today stands at the forefront of technological development.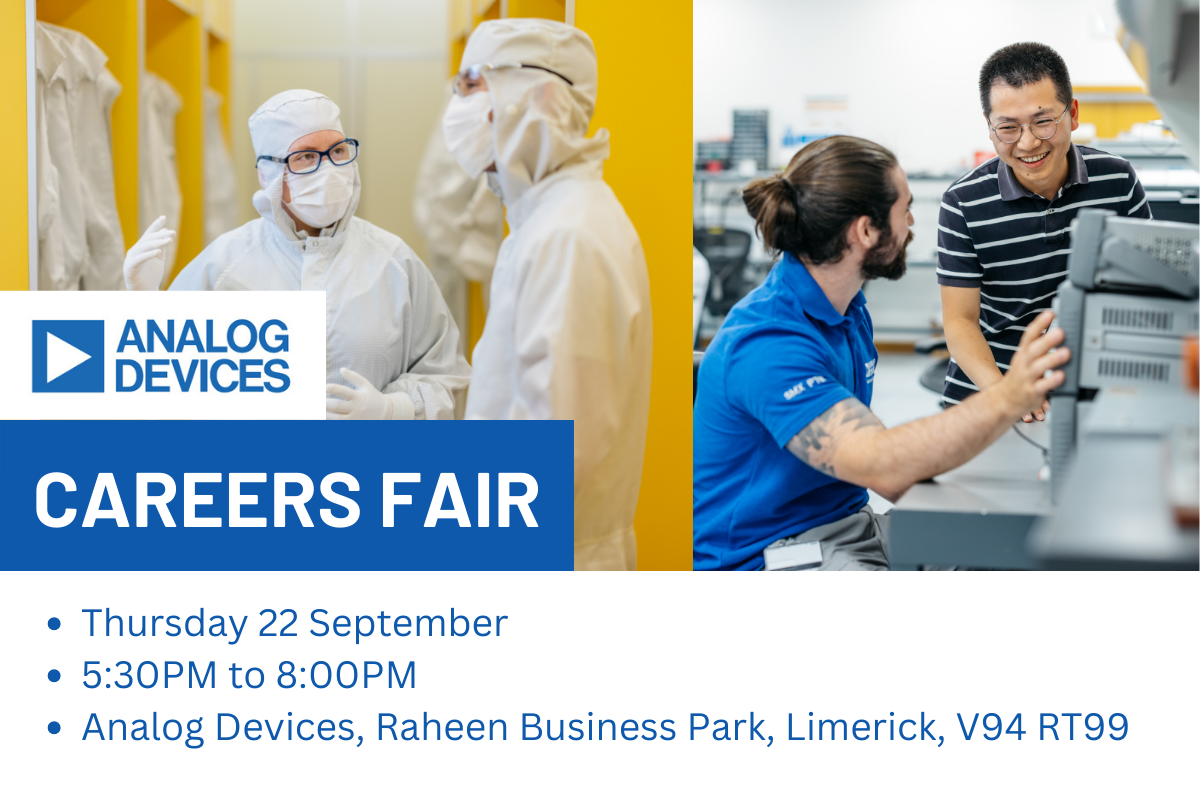 If you are interested in what life at ADI could offer you, here's how you can attend the event:
When: 5.30 pm to 8 pm, Thursday 22 September
Where: Analog Devices, Raheen Business Park, Limerick, V94 RT99
To register your interest, visit https://analogcareersfair.eventbrite.ie