The Spice Girls are back!
The Spice Girls kick off their reunion world tour at Croke Park tonight.
Their Dublin show will mark the first performance from the girl group since the 2012 Olympic Games.
If you're heading to the gig, we have everything you need to know from stage times and transport to bag checks and ID below!
Stage times
Doors open at 6pm with Jess Glynne kicking off as support act from 7pm.
We strongly suggest you arrive early as the queues are going to be massive.
The girls are expected to take to the stage at 8:15pm for a two hour set.
There are no re-admissions to the concert so once you're in, you're in.
 

View this post on Instagram

 
Are there tickets available?
Over 75,000 fans are expected to attend the concert with tickets currently sold out.
Gardaí are advising fans to be careful when buying tickets at this stage.
Some are being sold at unfair prices, while others are scams.
Make sure you're only buying from credible sources.
Security and bag checks
There will be strict security checks in operation at the gig so make sure you travel lightly.
Backpacks and large handbags are not permitted. Your bag should be no bigger than A4 size.
Your clothing and bags will be searched on arrival, so give yourself plenty of time to queue.
It's believed Gardaí will have around 150 personnel in and around Croke Park.
In addition to this, they'll security staff will also be helping out.
According to the Croke Park website, here's a list of all prohibited items:
Animals (Other than registered guide or hearing dogs)
Alcohol
Any item which may reasonably be considered for use as a weapon
Audio recorders
Backpacks/ Large bags /Waist packs
Banners with poles or poles of any kind
Bottles
Cans
Cameras with detachable lens or recording equipment
Camping equipment
Chinese or sky lanterns
Cooler boxes or large containers
Crash helmets, or protective headwear, Body-Armor or protective clothing
Deckchairs
Drumsticks
Excessive amounts of batteries, wire, cables or electronical component
Fireworks and Flares
Flagpoles
Garden furniture, Fold up chairs or shooting sticks
Glass
Glow sticks
Go Pros
Illegal substances/ illegal merchandise of any description
iPads
Large umbrellas
Large chains, Spiked bracelets or wallet chains
Large flags, Placards or posters (Inc Sticks)
Light-Sabres
Lasers/Laser pens or torches
Led headbands, wristbands, Glow sticks or light emitting objects of any kind (except mobile/cell phones)
Liquids – No liquids are permitted other than sealed water less than 500ml I allowed (Caps will be removed)
Nitrous Oxide
Portable laser equipment and pens
Selfie sticks
Smoke canisters
Sound systems
Spray cans
Tridents
Un-Authorized professional film or video equipment
Weather
You'll be happy to know it's actually a pretty good night for a gig in Croke Park.
According to Met Éireann, 'Any evening showers will clear quickly to leave it dry overnight with clear spells.'
'Minimum temperatures of 9 to 11 degrees in light breezes.'
 

View this post on Instagram

 
Transport
MCD encourage all fans to, 'walk, bike, or use public transportation to the show, But if you must drive, please carpool.'
If you do drive, it's important to know that there are no parking facilities available locally.
You can however, use car parks in the city centre.
Also, it's National Slow Down Day so... slow down!
Here's a list of the car parks nearby:
Clonliffe College
Q-Park Clerys, Marlborough St., Dublin 1
Mater Hospital Car Park
Park Rite Parnell
Park Rite Irish life
Park Rite IFSC
Park Rite Fleet Street
Park Rite Arnott's
There will be a system of coloured routes to help fans find their way to the correct entrances.
Hogan stand via Jones road and Russell street – Blue route
Cusack stand via St James avenue and Foster terrace – Red route
Davin stand via St Margaret's terrace – Yellow route 
Pitch A via Josephs avenue – Green route
Pitch B, Pitch C & Gold Circle Via St James avenue and Foster Terrace - Red route
Age restrictions
Under 14's are not allowed on the pitch either accompanied or unaccompanied.
All Under 16's attending the concert must be accompanied at all times by a parent or guardian.
Guardians must remain with under 16's and take full responsibility for them throughout the event.
Do you need ID?
While you may not be asked for ID, we do advise to bring it with you just in case.
The organisers say, 'If there is doubt whether a minor qualifies for age restrictions set out, proof of age may be requested.'
'It is the responsibility of the adult accompanying the minor to be able to satisfy staff that the minor is the age they say.'
Food and drink
You're not allowed bring your own food into the venue however, if you have any dietary requirements, we suggest you email [email protected]
Otherwise, there will be a wide range of food and beverages available to purchase. ATM's will be available at the event.
However, if you're buying alcohol - you will need ID.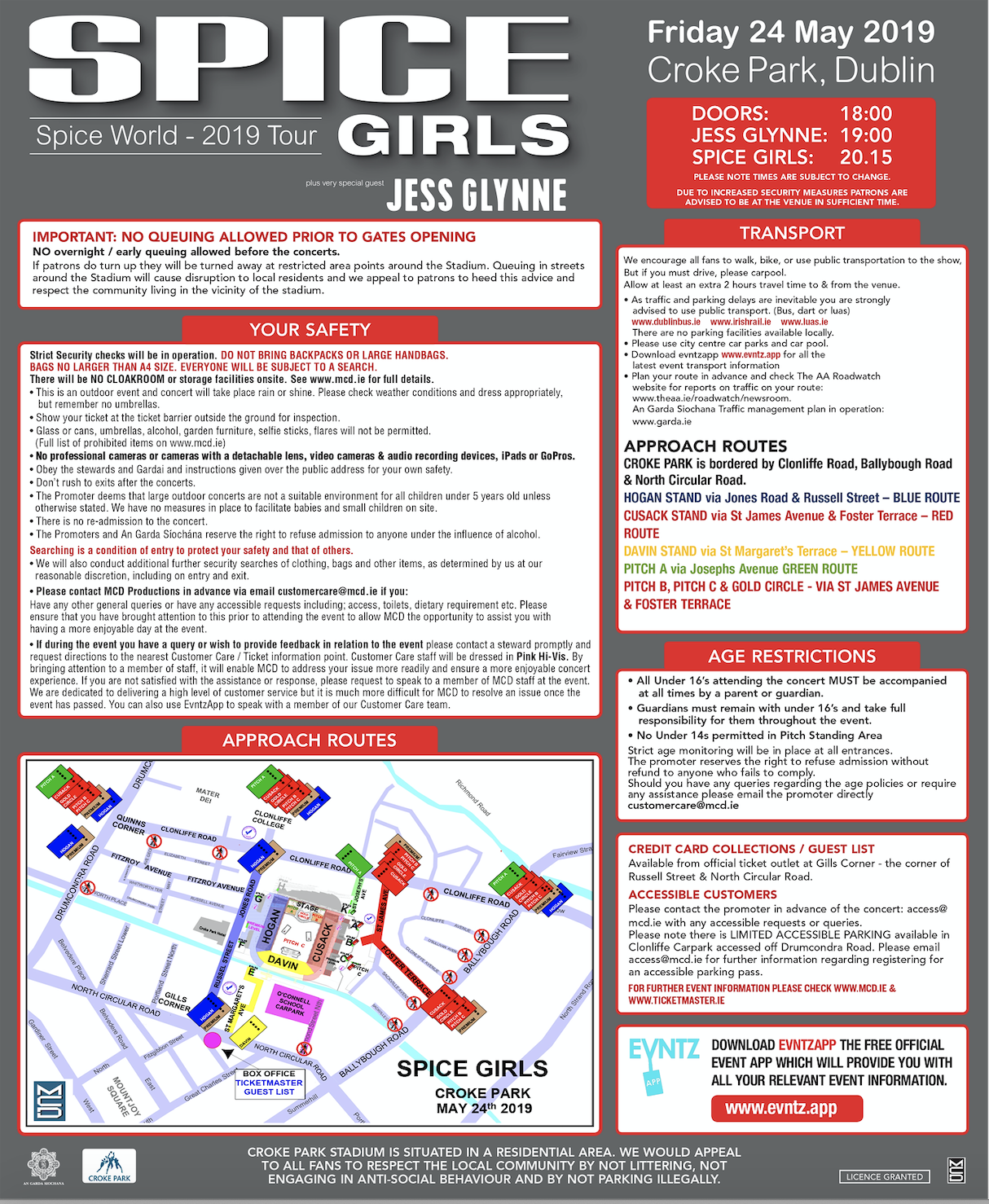 We've pretty much covered everything. Now, go and spice up your life!