Vanessa Hudgens responds to backlash
Vanessa Hudgens has responded after she faced backlash for sharing pictures of herself posing at New York's Sleepy Hollow Cemetery.
The former Disney star captioned one post, 'happy place.'
 

View this post on Instagram

 
The actress has since changed the caption to, 'Searching for that headless horseman.'
Social media users have taken to the comments section describing her behaviour as, 'disrespectful.'
One wrote, 'I know Halloween is your mood but this is disturbing.'
 

View this post on Instagram

 
Vanessa shared another post captioned, 'What. A beautiful. Place.'
One person commented, 'This is disrespectful. You're prancing around like it's some amusement park.'
'The caption is just why? Clearly you have never been to a burial. It's not a happy place for anyone.'
 

View this post on Instagram

 
Vanessa responded, 'I buried my father in a cemetery.'
'I love cemeteries. They're beautiful. Especially that one.'
'It's historical and I love history.'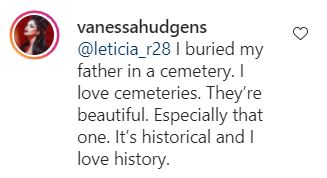 Vanessa's not the only one who disagrees with the backlash.
One Instagram user pointed out that the Sleepy Hollow Cemetery is a tourist attraction.
'Y'all never been or heard of sleepy hallow cemetery and it shows big time,' another commented.
 

View this post on Instagram

 
Halloween
Vanessa is a massive fan of Halloween, and has been posting spooky content since October 1st.
She went all out for her The Black Widow costume over the weekend.
'What. A. Damn. Vibe.'
Vanessa even shared a behind the scenes look at how they put the whole thing together.
Her fans absolutely loved it. One commented, 'OMGGGG U LOOK SO AMAZING'
While her former High School Musical co-star Monique Coleman simply wrote, 'L O V E'
 

View this post on Instagram

 
No further comment has been made.