Molly-Mae Hague shares an update
Last month, Molly-Mae Hague had a mole removed on her leg.
She's been keeping her followers updated on social media in order to raise awareness of the issue.
In her latest update, the Love Island star revealed the mole was in fact cancerous.
 

View this post on Instagram

 
Molly posted a YouTube video bringing her followers along the journey with her.
After filming her phone call with the doctor, she sat down in front of the camera and explained exactly what he said.
She said, "I got the call today and he's told me it is malignant melanoma - which is skin cancer basically."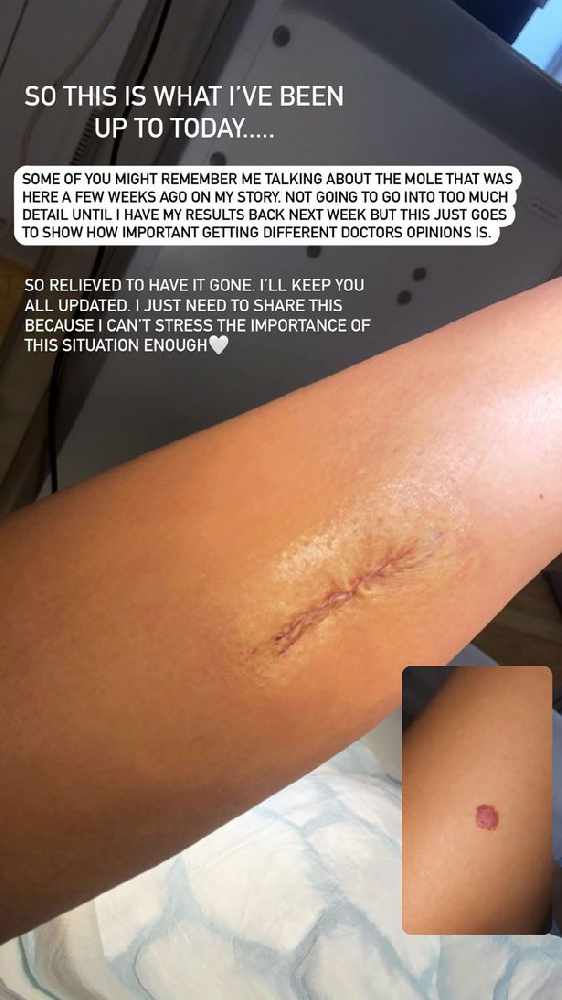 Molly's reaction
Molly continued, "It's obviously petrifying, shocking and scary."
"I don't even know what to think or say."
Molly had previously asked other doctors about the mole, and had been told she had nothing to worry about.
 

View this post on Instagram

 
The reality star admitted, "I cannot believe I was told by others doctors it was okay. I am so upset and angry."
It wasn't until Molly mentioned it to a third professional during a routine check up that something was done about it.
She recalled, "I just briefly asked this doctor when I was walking out."
 

View this post on Instagram

 
"I was walking around with skin cancer on my leg!"
"If I hadn't have asked, I'd still have that mole on my leg now and I'd be none the wiser."
"It could be spreading through my body, you just never know."
 

View this post on Instagram

 
Understandably, Molly was fairly shaken up after receiving the news.
She said, "I've already shed tears about it. I've already cried down the phone to every family member."
Further surgery
Molly was booked for another surgery, but the doctor cancelled it just a couple days prior.
She said she was told that one of the medical professionals believed the melanoma wasn't malignant.
"Which is obviously brilliant news."
"They're sending my mole off on a plane to America and I'm not going to get my results back for three weeks."
 

View this post on Instagram

 
Molly finished her video by encouraging her followers to get their moles checked.
"I cannot stress this enough. Use your initiative, be smart, go get your moles checked."
"If I hadn't, I could have been in serious trouble."
If you're concerned, you can find out more details about moles on the HSE website here.