Jack Fincham and Dani Dyer have split
Love Island's Jack Fincham and Dani Dyer have called it quits.
Following a whirlwind romance, Jack Fincham announced their split on Instagram Stories.
'Me and Dani are not in a relationship anymore...'
 

View this post on Instagram

 
Fincham wrote, 'There is no easy way to say this and it isn't going to be an easy time but me an Dani are not in a relationship anymore.'
'We will always care a lot for each other and have love for each other...'
'I mean that from the bottom o my heart, I wish her nothing but happiness.'
 

View this post on Instagram

 
He continues, 'We have some amazing memories together and have been through a lot.'
'Sometimes things aren't meant to be and we really did try to make it work but unfortunately didn't and that is life.'
'That's all I have to say, a break up is hard enough as it is for both of us let alone in the public eye...'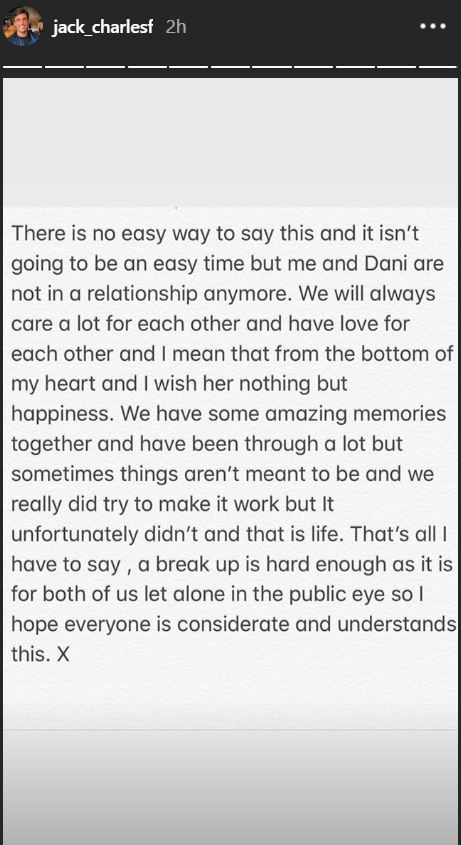 The Love Island winners broke up last year
This isn't the first time Jack and Dani announced their split on social media.
They went through a bit of a rough patch last year which lead to Dani announcing their split on Instagram.
However, she later cleared up that it was just a silly fight and they're still together.
 

View this post on Instagram

 
People started to think their relationship was all for publicity.
Some even believed they were contracted to stay together for a certain period of time.
Dyer however, shut down these claims in an interview with Fabulous Magazine earlier this month.
'We didn't have to stay together if we didn't want to.'
'We were never contracted to do anything like that. That is not a 'thing', and if it is it should be illegal.'
 

View this post on Instagram

 
'People love a conspiracy theory, don't they?'
'Instead of being like: 'Fair enough, they've got back together,' they'd prefer to see it another way.'
'I would never get back with someone because of that. That would be pathetic.'
She confirms, 'We got back together because we wanted to.'
Love Island
The reality stars met in the Love Island villa last Summer.
Jack and Dani were inseparable and had the whole nation rooting for them from day one.
 

View this post on Instagram

 
Like every couple, they had their ups and downs on the show.
However, they always managed to pull through.
They eventually went on to win the show together and received £50,000.
Since leaving the villa both Jack and Dani have been hugely successful.
Dani has written her own book and Jack has released his own range of pens.
Dani has yet to comment on the split.