Lili Reinhart is being impersonated
Riverdale's Lili Reinhart has spoken out after learning she's being impersonated for interviews.
Somebody has been speaking to publications on behalf of Lili and her publicist.
 

View this post on Instagram

 
Last week, an American outlet published an interview with someone pretending to be Lili.
After learning that the person they spoke to was an imposter, they issued a public apology to the actress.
Lili shared the statement to her Instagram Stories and addressed the situation.
 

View this post on Instagram

 
Lili speaks out
She wrote, 'For some bizarre reason, someone impersonated me in an interview with Seventeen.'
'Nothing inappropriate was said, but those were not my words and I wanted to address it.'
Read the full statement on Lili's Instagram Stories below: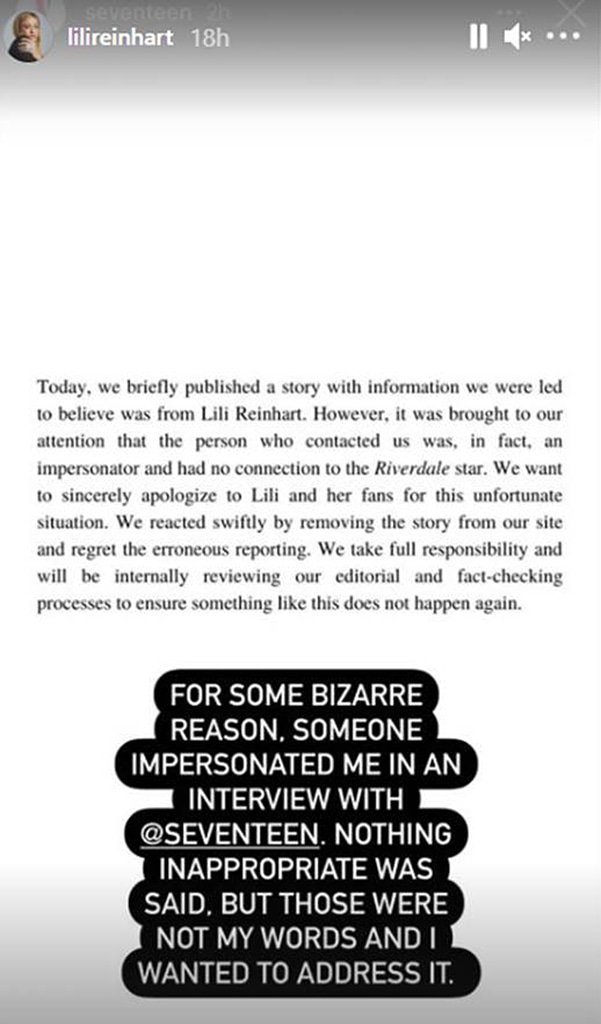 According to Buzzfeed, the impersonator discussed the upcoming season of Riverdale with the magazine.
They apparently hinted that we'll be seeing a lot more of Betty and Archie's romance.
And this wasn't the only publication the imposter targeted.
 

View this post on Instagram

 
TV Reporter Lucas Hill-Paul issued a public apology to fans on Twitter over the weekend.
It's after learning his interview with Lili for The Daily Express was also fake.
The reaction
Fans have been reacting to the news on social media.
The Lili Reinhart impersonator when getting that incoming phone call from seventeen magazine pic.twitter.com/q8npZyqWZs

— Barchiedaily (@Barchiedaily) January 23, 2021
I'm officially more interested in talking tothe real L If ur the person who impersonated her for a seventeen interview pls talk to me (or if you wanna impersonate the impersonator idc)

— Soulja Baj (@lavosaurus) January 23, 2021
LEAKED: Lili Reinhart and her impersonator pic.twitter.com/2fD9OfHBtT

— dutyna (@lodgdrews) January 23, 2021
This whole story feels like something we'd actually see in an episode of Riverdale...