Kylie Jenner's tribute to the late Kobe Bryant
Tributes have been flowing in for the passengers on board a helicopter that crashed in LA over the weekend.
Basketball legend Kobe Bryant and his daughter Gianna both died in the crash.
Kylie Jenner is just one of the many celebs taking to social media in support of the families.
The reality star shared a picture collage of the passengers on board the flight.
She captions the post, 'rest in peace..and prayers to these families.'
Kylie makes the revelation, 'that was the helicopter i would fly on from time to time with that pilot, Ara.'
'he was such a nice man. hold your loved ones close.'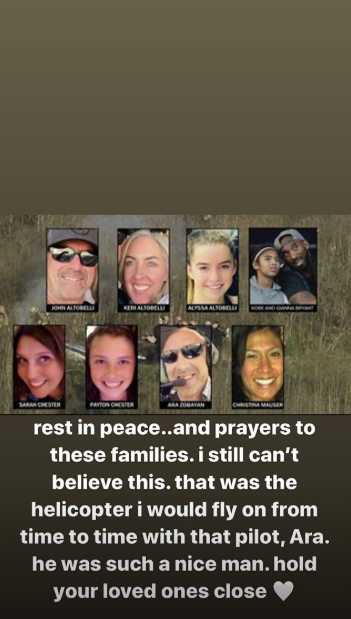 Instagram Stories @kyliejenner 
Kylie also shared a picture of Kobe and Gianna to her Instagram account.
She writes, 'at loss for words right now. praying for this beautiful family.'
Celebrity tributes
Jessica Simpson also took to Instagram with a photo of the clouds in the sky.
She writes, 'Eric took this photo from our backyard right after the accident happened where Kobe, his daughter, and other beautiful souls were lifted up to be with God for eternity.'
 

View this post on Instagram

 
While Justin Bieber shared a throwback picture of himself and Kobe from years ago.
'It can't be. You always encouraged me mamba. Gave me me some of the best quotes that we smile about to this day.!'
'Love you man!'
 

View this post on Instagram

 
David Beckham also took to Instagram with a series of pictures of the basketball star and his daughter.
'This was one special athlete, husband, father and friend.'
'Kobe always talked about Vanessa and his beautiful girls and how proud he was of them... His legacy will live on.'
 

View this post on Instagram

 
Over one million people have signed a petition calling for Kobe's silhouette to be added to the NBA logo.
Check out the petition here.