Jacqueline Jossa releases another statement
Queen of the I'm A Celeb jungle Jacqueline Jossa has released a further statement admitting she's, 'struggling.'
It comes after she slammed reports of a divorce between herself and Dan Osborne earlier this week.
The Sun claimed Jacqueline left their family home after discovering he had been messaging other girls online.
A source told them, 'Dan's sworn to her on so many occasions he's going to change his ways but just can't help himself messaging other women.'
Shortly after this, Jacqueline released a statement on Instagram addressing the reports.
She wrote, 'I need some time. There is no split. No divorce. We are working together not against each other.'
 

View this post on Instagram

 
Jacqueline's latest update
Earlier today, Jacqueline took to Instagram Stories with a further update on her current situation.
She wrote, 'Morning all. This is a message for all of the amazing supporters who always show me so much love.'
'I've been honest about my situation at the moment, and yes I've been staying at another house.'
 

View this post on Instagram

 
The actress went on to share that she's been living in a house that her parents will eventually be moving into.
Jacqueline admitted, 'I had really been struggling (haven't we all?) lately...'
Re-iterating what she said in her previous statement, she wrote, 'I've just needed some time and breathing space.'
 

View this post on Instagram

 
Jacqueline went on to reveal she's had some scary experiences with paparazzi lately.
She said there were five paps outside her home who chased her and her kids to the car.
The TV star wrote, 'It's scary and it's stressful.'
 

View this post on Instagram

 
Jacqueline went on to slam allegations of third party involvement in her relationship.
She wrote, 'the stories about splits, divorce, third parties - it's just not my real life.'
The star warned her fans, 'Don't believe it.'
 

View this post on Instagram

 
Wrapping up, Jacqueline said, 'I'm going to enjoy the sunshine with my kids.'
'Thanks to everyone who always stands by us, and to all the hard working parents trying to get through this crazy time.'
'And for those who just don't get it, just Be Kind. I will not be commenting any further.'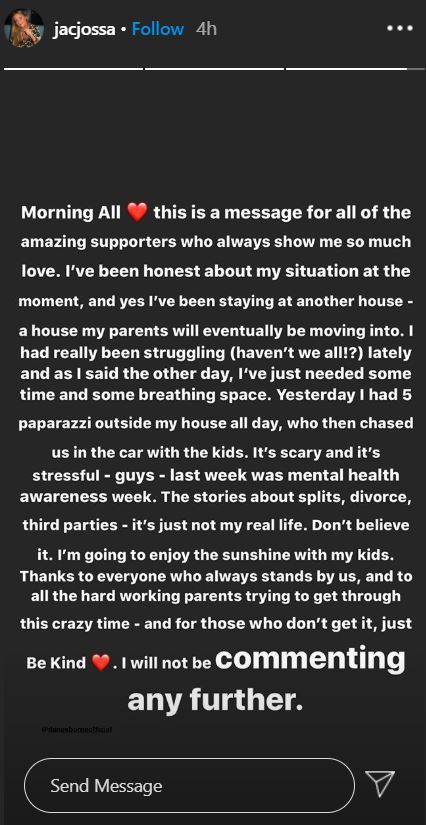 Instagram Stories @jacjossa 
Meanwhile, Dan has yet to comment.