Gemma Collins has been using her mothers wheelchair following her fall on Dancing On Ice.
James Argent has told The Sun that his girlfriend Gemma Collins has been struggling since her fall on the show over the weekend.
He goes on to admit she's been using her mother's wheelchair.
 

View this post on Instagram

 
He reportedly told the publication, 'Gemma couldn't sleep last night because she's in so much pain.'
'The swelling around her thighs and knees is horrific and she's black and blue all over.'
He admits, 'she's struggling to walk so [he] had to carry her to the car.'
'She's been using Joan's wheelchair on and off all day because she's in so much pain.'
He shares a video of the bruises on her legs to Instagram Stories.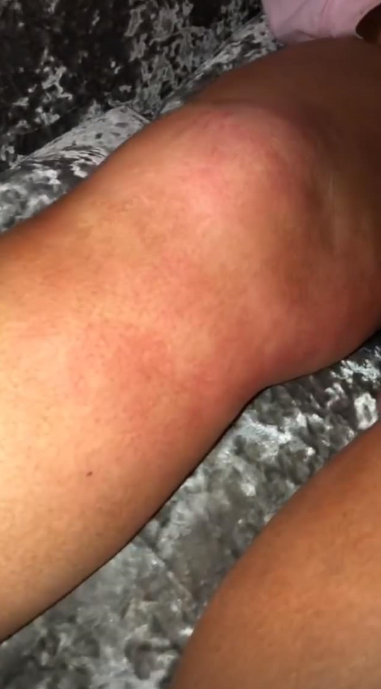 He says Gemma will be 'seeing a private doctor tomorrow who will determine what will happen next.'
Consequently, the thought of having to drop out of the competition has crossed her mind.
'It will be her worst nightmare if she's forced to pull out of the show...'
'She wants to continue and we strongly believe she's a real contender to win.'
 

View this post on Instagram

 
Many people believe the fall was a publicity stunt.
Argent has a few words to say to those who believes this;
'Anyone who thinks Gemma faked the fall and risked life-threatening injures is an idiot.'
 

View this post on Instagram

 
She took a tumble during her performance on Dancing On Ice over the weekend.
The dancer failed to catch up with her partner Matt Evers.
In videos from the performance she crashes face first into the ice.
After a couple seconds she jumps back up and finishes the routine.
 

View this post on Instagram

 
Despite her fall on the ice, she managed to bag herself 16.5 points from the judges.
The performance follows her ongoing feud with Dancing On Ice judge Jason Gardiner.
He's been liking comments on social media which suggest what happened to Gemma was karma.
Oh @officialJasonG how we all laughed 😂😂 thats what ya call karma 😂😂😂 just cannot believe shes still there!!! I no im evil 😈😈

— andy and marie (@pennypittbull) 27 January 2019
@officialJasonG keep going as u are, the likes of Gemma Collins makes me sick. She shouldn't be In the show. Vile. Your a brilliant judge and know what your taking about.

— sally henson (@sallymkins) 27 January 2019
Gemma has yet to comment on whether she'll be carrying on with the show.