Gabby Allen speaks out
Gabby Allen's ex Myles Stephenson seems to believe she once had a secret fling with Dan Osborne.
According to reports, Dan's wife Jacqueline had a meltdown in the I'm A Celeb jungle when her camp mate Myles told her.
Gabby has since spoken out and denies these allegations to the ground.
Not only is Gabby denying the allegations, but it looks like she's also seeking revenge on her ex.
She's taken to social media with screen shots of messages between Myles and other girls while they were together.
'Thanks to all the girls who came forward and sent me details of Myles' cheating.'
What happened?
The Sun reported last week that Dan Osborne's wife Jacqueline had a meltdown in the I'm A Celeb jungle.
It's after her co-star Myles Stephenson allegedly told her that he believed Dan had a secret affair with his ex Gabby.
Jacqueline refused to continue with the show until she spoke to her husband first.
She was given permission to leave the jungle in order to confront Dan about his alleged infidelity.
However, she was not allowed to speak directly to him, she had to leave a voice mail.
A source tells the outlet, 'Jacqueline was beside herself after Myles told her what he believed.'
'She was nothing short of hysterical.'
'Jacqueline has been fantastic to watch so producers really wanted to avoid a situation where she walked out.'
'But equally they were very conscious about a duty of care towards her and had to consider her mental state.'
Gabby lashes back
Gabby has since spoken out in an interview with The Sun.
She tells them, '[Myles] might be pretending to be nice in the jungle, but it's just a fraud.'
'He is not a good person otherwise he wouldn't have treated me so badly.'
She continues to slam his character, 'He's a deceitful narcissist and a compulsive liar.'
'I look back at our relationship now and wonder if he ever loved me at all.'
'He's a real Jekyll and Hyde character and he doesn't care what pain and hurt he causes.'
'To say something like that to Jacqueline was just cruel.'
'I completely understand that Jacqueline was really p****d off by the rumours about me and Dan, and I'm so sorry that I had any part in damaging their marriage.'
'It's devastating. But, hand on heart, Dan and I were never more than friends.'
Gabby retaliates
It seems Myles' recent comments have thrown her over the edge.
She's taken to Instagram Stories to reveal sext messages sent between Myles and another woman while they were still together.
Gabby also shares screenshots from women claiming he had cheated on her with them.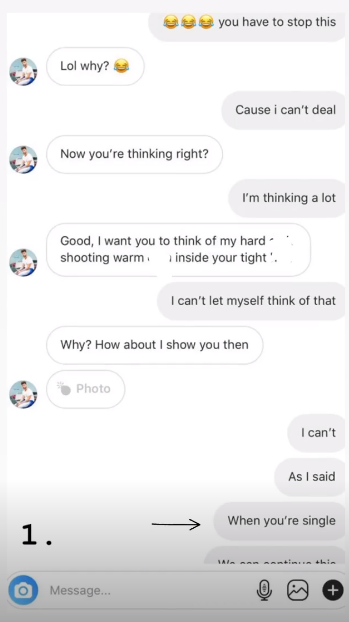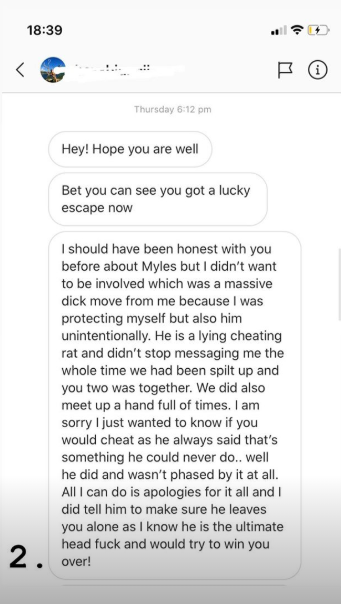 She tells her 1.1 million followers, 'I just want to reiterate/ set the record straight.'
'I have tried to bite my tongue and keep my dignity after discovering the new endless determined pursuit of women and a long term affair that Myles undertook.'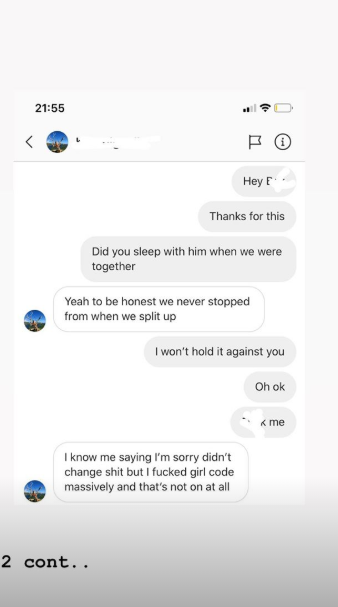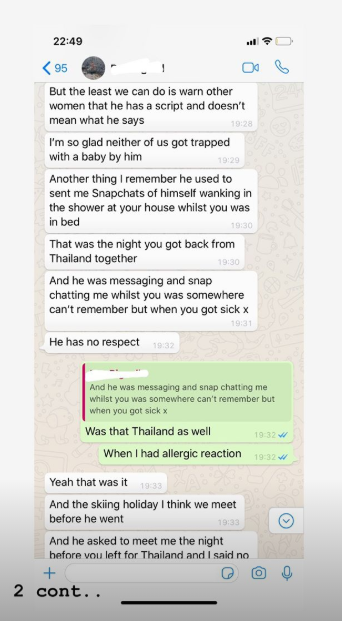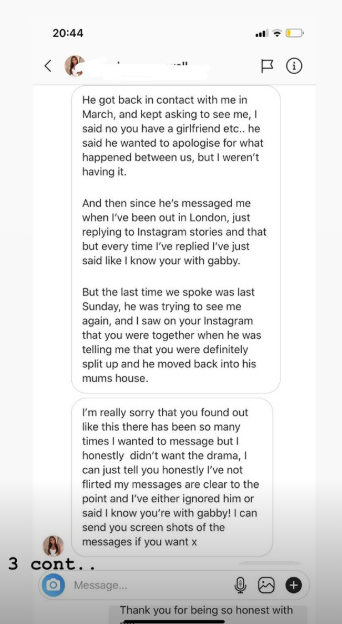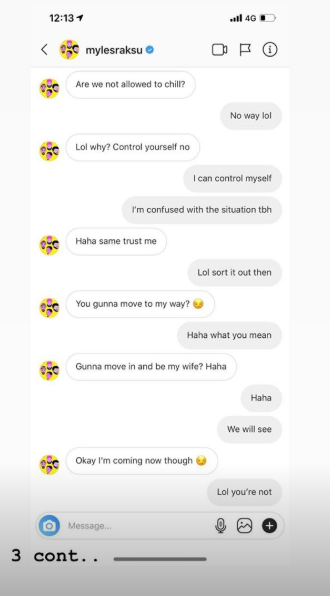 'I wanted to deal with this break up privately but I have been left with no choice after deflective behaviour and my name being questioned.'
'So, will stand up for myself but I'm not going to talk about this again after today.'
'Thanks to all the girls who came forward and sent me details of Myles' cheating.'