Diane Keaton & Reese Witherspoon react to Dublin toddler
An adorable Dublin toddler has caught the attention of two of Hollywood's biggest stars; Diane Keaton and Reese Witherspoon.
It's after her father shared a hilarious video of her on the phone in a hotel room.
 

View this post on Instagram

 
In the clip, Daisy sits on a bed and pretends to have a full-on conversation with her nana.
Father of the Bride actress Diane Keaton came across the video on Instagram and just had to share it with her followers.
She wrote, 'THIS IS A YOUNG REESE WITHERSPOON IN THE MAKING!!!'
 

View this post on Instagram

 
Reese absolutely loved the video, and ended up sharing it to her Instagram Story.
She captioned her post, 'Someone get this little lady an Oscar ASAP!!'
Reese's The Morning Show co-star Jennifer Aniston also liked Diane's Instagram post.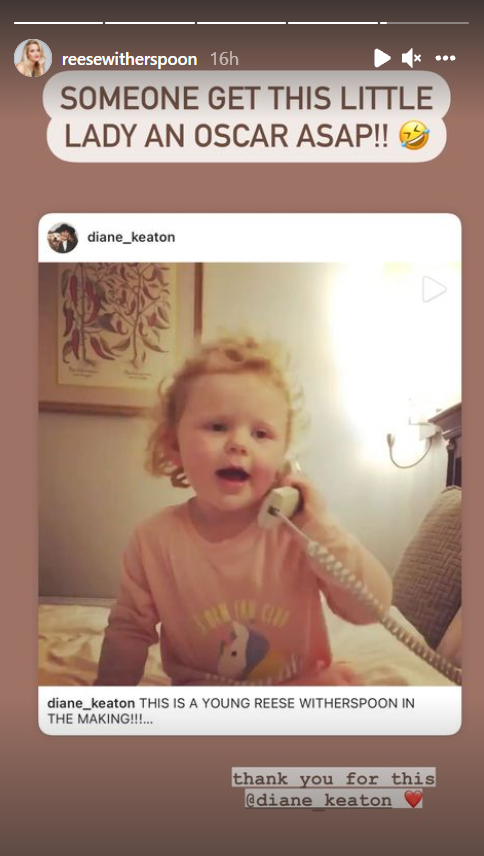 In fairness, Daisy was doing pretty well for herself before Diane and Reese noticed her.
Her account @crazydaisydublin, run by her father, has accumulated over 47,000 followers.
 

View this post on Instagram

 
The bio reads, 'Welcome to the craziness of Daisy. Channel run by Daisy's dad...no influence on her craziness...Enjoy !!'