Demi Lovato responds to online controversy
Demi Lovato came under fire for branding L.A. frozen yogurt shop The Bigg Chill, 'diet culture vultures.'
Her comments sparked major controversy online, and she's since released a video addressing the backlash.
Demi became frustrated when she noticed what she believed to be an excess of diet foods advertised in the shop.
So, she slammed the business on Instagram Stories, asking them to, 'do better.'
The store defended themselves by saying they cater to all their customers.
This includes those who have diabetes, celiac disease, or are vegan.
The store also responded privately to Demi, who shared a screenshot of the exchange on Instagram Stories.
In her response, Demi advised them, 'You can carry things for other people while also carrying for another percentage of your customers who struggle DAILY just to even step foot in your store.'
'Don't make excuses, just do better,' she told them.
So many people took to Twitter, outraged that Demi publicly called the business out in front of her 102 million Instagram followers.
Some shared memes mocking Demi, while others called her behaviour, 'immature.'
Restaurant: *has diabetic friendly options*

Demi Lovato: pic.twitter.com/6Ld3UwbKjM

— kate (@toaster_rodeo) April 19, 2021
i legit cannot stand demi lovato. this restaurant is not the cause for ur triggers. sugar free cookies do not classify as "disordered eating" if ur in the right mindset. if ur not, then it's not the restaurant's fault. the way she PUBLICALLY called them out was so immature pic.twitter.com/aETygKvK1L

— baby (@knockoffsharpay) April 18, 2021
Demi addresses the backlash
Demi has since released a lengthy video addressing the controversy.
She explained she wanted to make a point, and call out the behaviours that don't sit right with her.
As someone who struggled with an eating disorder, she admitted that she still finds it difficult to walk into a frozen yogurt shop, order yogurt, "And [keep] it down."
She went on to share her experience in the store, and how seeing all those diet products made her feel.
Demi said, "It wasn't clear to me that [the food] was for specific health needs, and so I didn't know that."
"I just took it as, ok, I'm going into a Froyo shop and I'm seeing, 'Sugar-Free,' I'm seeing this and that."
Demi thinks there should be signs to say that the food is for celiac disease, or diabetics etc.
She admitted, "I definitely jumped to conclusions and probably shouldn't have gone about this the way that I have."
"But I'm willing to talk to this Froyo shop, to help get the messaging right."
"I left that yogurt store and didn't get the yogurt that I wanted."
"And then I had a hard time the rest of the weekend, to be totally transparent."
"But I'm human, and I talk about my struggles, and I'm passionate!"
"So I'm sorry that I got the messaging wrong, I'm sorry that I may have disappointed some people."
"But I'm not coming after a small business as someone with a lot of followers, that's not what I'm doing here."
"I walked into a situation that didn't sit right with me, my intuition said speak up about it, and I did, and I feel good about that."
Watch the full video below:
Demi later found a post from The Bigg Chill on their Instagram account, advertising, 'Guilt-Free,' foods.
She posted a screenshot on Instagram Stories and wrote, 'This screams diet culture and I won't be gaslit by the media or anyone else that says otherwise.'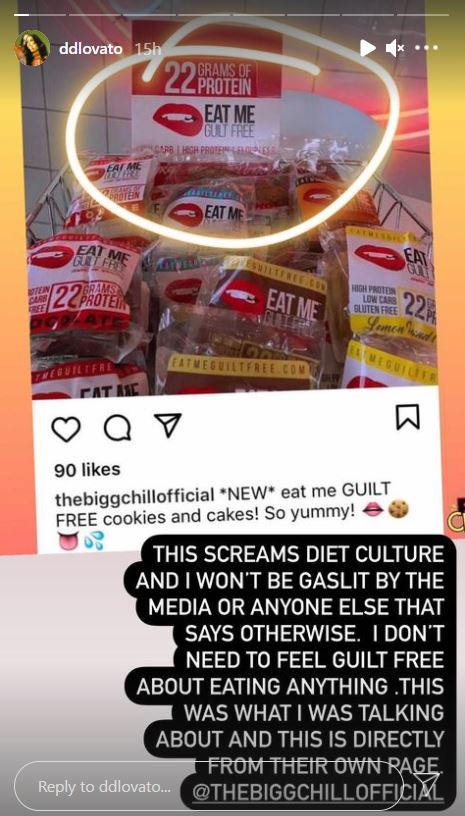 According to screenshots obtained by TMZ, the establishment pointed out in their private response that the post dates back to 2016.
They allegedly wrote, 'We do not even carry this companies products anymore and have not in years.'
'We only started carrying them because our customers wanted a protein cookie.'
Demi allegedly responded by telling them not to, 'mess,' with her.
According to the screenshots, she purportedly said, 'If it's still in your site GUESS WHAT - YOU'RE STILL SUPPORTING IT.'
Jameela Jamil gets involved
Jameela Jamil has since jumped to Demi's defense in a lengthy post on Instagram Stories.
She said, 'if an eating disorder advocate says she sees products that are positioned as guilt free, and it is potentially triggering, that doesn't mean she's too stupid to remember that diabetics exist.'
'It just means that we need to change the marketing of products that are for people's medical needs.'
'That's all @ddlovato was asking for. It doesn't make her a monster.'
'It doesn't mean she disregards people's illnesses,' Jameela went on.
'We are so lucky to even have food'
'She's just one of few celebrities reminding us to look out for mental illness. Guilt free is diet culture terminology.'
'We need to stop using that f***ing term. We are so lucky to even have food.'
'What in the name of s**t and hell is there to feel guilty about.'
The actress added, 'That's a term of shame. Orthorexia is easy to slip into and is a F***ING nightmare to crawl out of.'
'I think it's good to keep raising awareness on this matter until eating disorder rhetoric is OUT of our normalized mainstream culture.'
You can read Jameela's statements below: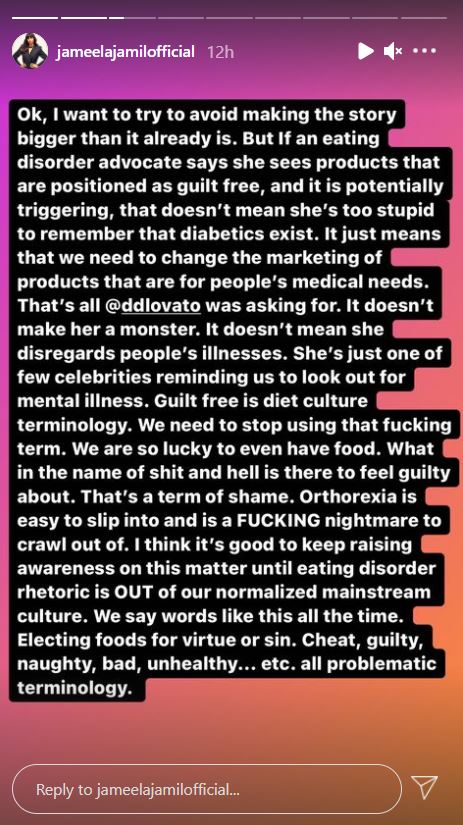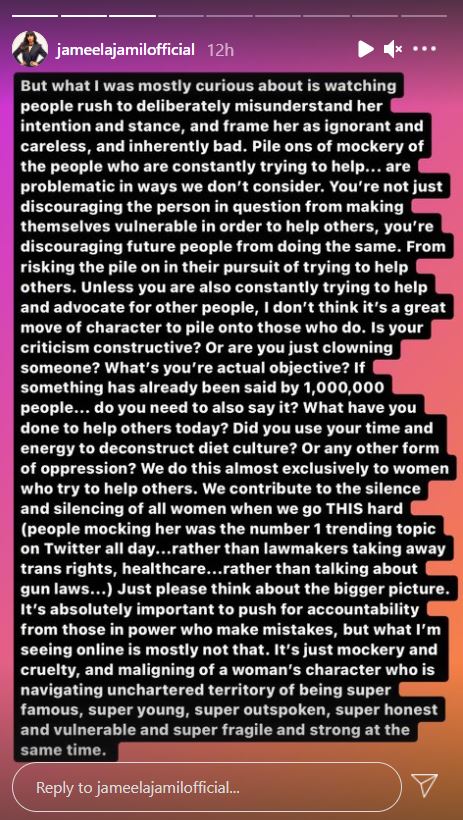 Fans show support
Many of Demi's fans have also taken to social media to show their support for the singer.
One Twitter user said, 'I cant believe people are offended by Demi Lovato VOICING a human concern and showcasing what mental illness/triggers look like...'
I cant believe people are offended by Demi Lovato VOICING a human concern and showcasing what mental illness/triggers look like... it's almost like they claim to support those who are mentally ill until they show signs of said mental illness?

— hazzan (@cityofvato) April 20, 2021
The Bigg Chill haven't addressed the issue any further.