Demi Lovato moves in with her family
Demi Lovato has revealed she fled her apartment complex after finding out somebody in the building has the coronavirus.
The singer made the revelation during an Instagram Live as part of Miley Cyrus' new series Bright Minded.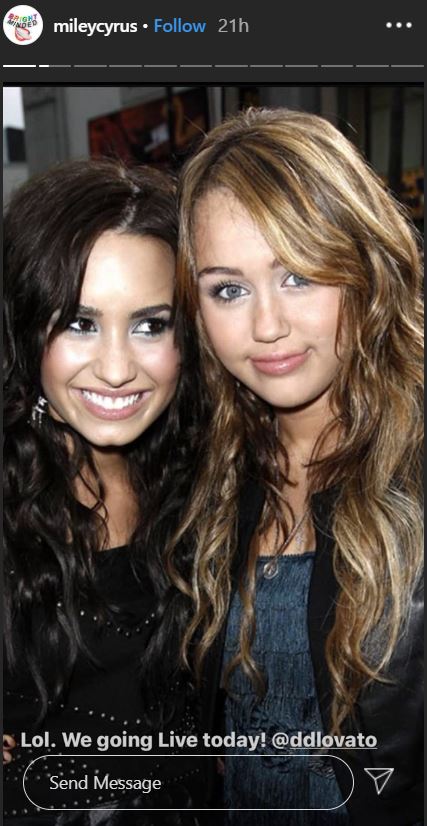 Instagram Stories @mileycyrus 
Demi revealed, "I live in an apartment building and someone in the building tested positive, like a guest, so I had to get out."
The former Disney star said, "I moved in with my family. I'm with my family right now and they're everything."
"Fortunately my family just moved into this new place."
 

View this post on Instagram

 
Demi went on to reveal she's using her church's app and meditation to keep positive during these very difficult times.
She also showed her followers and Miley her, "immunity table."
Products like apple cider vinegar gummies, vitamin C supplements and more sat on the table.
 

View this post on Instagram

 
Demi explained, "Everyone's immune system needs to be tip top."
"I want cupcakes... but I'm getting my sugar through fruit, gummies and Emergen-C to boost my immune system."
Meanwhile, Miley has spent her time in quarantine turning her sister's guest house into a cardio room.
 

View this post on Instagram

 
Miley also shared that she's trying to improve her guitar skills.
She said, "I want to get better at guitar so when I'm on tour I'll be shredding."
 

View this post on Instagram

 
The former Hannah Montana star will be chatting to Love Is Blind's Cameron and Lauren on tonight's episode of Bright Minded.
Meanwhile, Vanessa Hudgens has released an apology for her, 'insensitive,' coronavirus comments.
Read more here.