It's been a while since we've had an update about Cardi B & Offset's relationship status, but it looks like the ex- couple is very close to officially getting back together.
Us Weekly has reported that the pair, who split back in December has been in "constant communication" both "for their daughter as well as because they love each other."
Which is normal enough and not enough evidence to say they're getting closer again...
A source explained that while "Cardi is focusing on Kulture and her work," she has "such a deep love for [Offset],".
They went on to say that "there's a very good chance they could be fully back together very soon."
This update comes after Offset dropped thousands of dollars on Cardi B's Christmas gifts in an attempt to win her back, and the news that they spent the holidays together in Puerto Rico.
After the getaway Cardi B said;
"I just had to get f*cked, that's all. I feel rejuvenated, bitch. Bitch, I feel so rejuvenated. I feel baptized. Bitch, I feel f*cking baptized, bitch. I feel like a brand new f*cking woman."
This is the Instagram comment that has everyone thinking they might be getting back together.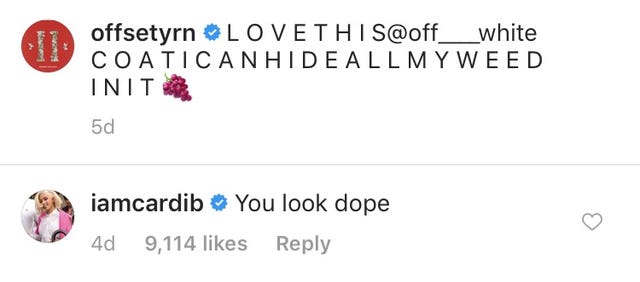 Cardi B hit headlines recently after weighing in on the US Government shutdown.
Cardi B says the US is "in a hellhole" at the moment overthe governmentt shutdown.
She took to Instagram criticising Donald Trump over it, as some government employees are not getting paid.
Watch that video here.