Bebe Rexha has had to defend her father after she shared a text he sent her
Bebe Rexha's father has been facing a lot of backlash online.
It's after she shared a screenshot of a text he sent her on Instagram Stories.
The text read, 'You better stop posting stupid pornography because you make me sick...'
Bebe captioned the image, 'My dad hates me.'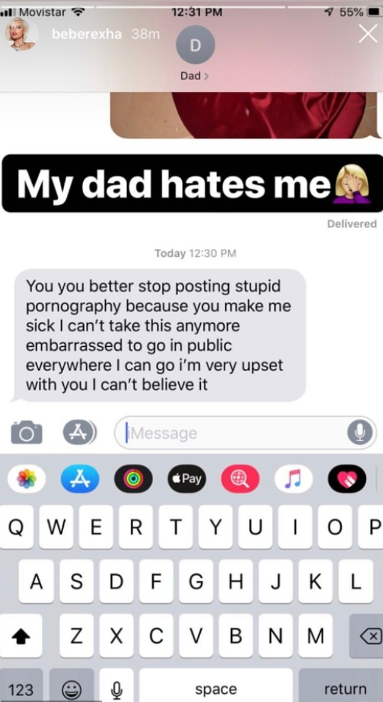 MailOnline reports she later defended her father on Twitter after deleting the Instagram post.
'My dad is not a bad guy. I should of never have posted that screenshot.'
'Im disappointed in myself. I was being sarcastic.'
 

View this post on Instagram

 
'I understand where he is coming as a father and that's why the text was a bit harsh.'
'I am upset that he still isn't speaking to me, but he is still my father.'
'Don't say mean things about my dad please he is an amazing father.'
 

View this post on Instagram

 
Perhaps her fathers comments have something to do with her latest music video
She just released the music video for her song Last Hurrah.
Bebe confessed on Twitter that the video was flagged insensitive on YouTube.
She goes on to defend the music videos content.
'I'm not gonna be made to feel bad about making ART.'
'yes art to me is my beautiful a** out, boys kissing boys, girls kissing girls, crosses on my body.'
Bebe says the only person she would apologise to about this video is God.
'But I wrote this song with a pure heart. And wanted to portray how We are all fighting our temptations.'
Watch the full music video below:

Bebe Rexha hasn't commented further.