Irish company's pioneering technology for COVID-19 infected medical waste adopted by New York's largest health care provider to assist fight against spread of the virus
Technology of global leader in clinical diagnostics Technopath fast-tracked for use 
Northwell Health is the first healthcare provider globally to implement Ballina company Technopath's new on-site medical waste treatment technology for COVID-19 infected medical waste
Technopath's Envetec 200 system supports the urgent need to safely treat infectious waste using a patented destruction and disinfection process that kills COVID-19 and all other viruses and pathogens
Treatment efficiently manages medical waste on-site preventing the further spread of the virus as well as removing public health risks caused by transporting waste across state lines and international borders
Technopath is scaling manufacturing and commercial expansion to meet anticipated demand for the technology platform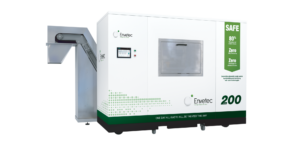 Technopath Clinical Diagnostics today announced that Northwell Health, New York State's largest healthcare provider with 23 hospitals and nearly 800 outpatient facilities, is minimizing the risk of spreading COVID-19 by adopting Technopath's technology platform that safely neutralizes infectious medical waste.
Northwell is the first health system worldwide to implement Technopath's pioneering technology.
"According to a recent study by the National Institutes of Health, coronavirus survives on plastic and stainless steel surfaces for up to three days 1. As Northwell Health significantly ramps up COVID-19 testing to over 1,600 samples daily, there is an urgent need to quickly and reliably minimize the risk of spreading disease from infected medical waste," said Malcolm Bell, CEO and founder of Technopath.
"Partnering with Northwell to provide the most advanced, environmentally friendly, and cost-effective technology for the treatment of medical waste infected with coronavirus is allowing us to respond to what the World Health Organization has characterized as a global pandemic."
Developed by Irish-based Technopath Clinical Diagnostics, the Envetec 200 system simultaneously shreds and disinfects infectious medical waste using a patented destruction and disinfection process that kills COVID-19 viruses along with all bacteria, spores and other pathogens that pose a danger to human health.
Implementing the Envetec 200 technology comes as Northwell continues to ramp up COVID-19 testing. Northwell Labs is one of 89 public health laboratories in the US testing for the novel coronavirus and recently advanced to fully automated testing capabilities, which allows the health system to test more than 1,600 potential COVID-19 samples daily.