A mica campaign group says it's 'frustrated, disheartened and angry' by a proposed new redress scheme. 
Under a draft memo, which is yet to go before cabinet, the government would pay a maximum of €138 per square foot, with a cap of €420,000 euro. 
Though it's a significant increase in funding lead campaigner Paddy Diver says €150 per square foot is the minimum amount needed: 
"There's not a contractor in Ireland that'd be able to fix a house for €138 a square foot!"
"That's the bottom line."
"So it leaves us back to square one."
The rate of €138 per sq ft leaked to @rodneyed @Independent_ie is an outdated SCSI rate for building costs in Donegal. @mart0017 reported today on @GregHughes2 @highlandradio the true cost of building the first 24 homes approved in the redress scheme has been €150 per sq ft pic.twitter.com/dI6tslF6X2

— Professor Paul Dunlop (@ProfPaulDunlop) November 29, 2021
Moving Too Slowly
The draft proposal is still being worked on and may not go before cabinet tomorrow. 
Barbara Clinton from the North Mayo Pyrite Group says the Government is moving too slow:
"We're disheartened, frustrated and angry."
"There must be as many cracks in the can that's being kicked down the road as there is in our homes."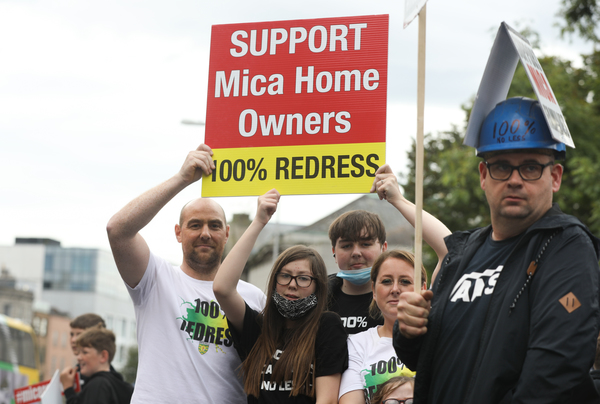 Sulfate Minerals
Meanwhile Donegal Cllr Frank McBearty plans to sue the state.
That's if he his home (affected by a sulfate mineral issue and not mica) isn't covered by the scheme.
"All the properties in Donegal that came from a certain manufacturer have problems with Sulfate."
"Government didn't want to deal with this because the cost will go through the roof."
The draft plan is still being worked on, according to government sources.