There are calls for a ban on 'laughing gas' as growing numbers of young people take nitrous oxide to get high.
It's thought more people started using the gas for a quick high during the pandemic because of a shortage of other drugs.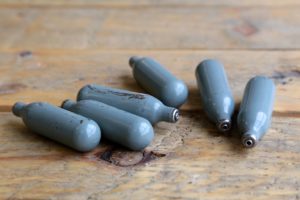 Frostbite
Nitrous oxide, or laughing gas, is used by the catering industry or in medical settings like dentists and labour wards.
But it's increasingly being inhaled by those looking for a quick, cheap hit.
Addiction specialist Dr Garrett McGovern, says there are risks like memory loss, nerve damage and even frostbite;
He says taking the substance from the canister can be "very nasty" because they're at about -40 Celsius.
"So there is examples of people getting frostbite to their nose, throat and mouth."
This is a can of nitrous oxide. Found it in Drimnagh last night. It is an industrial product often used by young people as 'laughing gas'. Inhaling industrial gas can be dangerous, even deadly. Talk to your children about it. For more info @HRBdrugslibrary @D12ldatf pic.twitter.com/KAF19dn5qt

— Cllr. Daithí Doolan (@DaithiDoolan) August 9, 2022
Dangers
Tara Deacy from the Clondalkin Drug And Alcohol Taskforce, who've run a social media campaign on the dangers, says people are opting for higher doses;
She says the silver bullets seem to be less popular since Covid, but larger canisters have been seen more often.
"So obviously the health implications will be much greater," Tara concluded.
You can buy a 24-pack for less than a tenner online.
Dublin Fine Gael TD Emer Higgins says it needs to be better regulated;
"I've heard my local Gardaí say they've come across people using these large canisters - maybe in a park - and they can't intervene."
Deputy Higgins says there simply isn't a "legal framework" for Gardaí to step in.
Recent figures from the EU drugs agency show almost 1 in 4 people in Ireland said they'd used the gas at some stage in their lives.