It is important that you keep up to date! There's been a lot of talk about the Coronavirus.
From What's App groups to hysteria online, there's a lot of misinformation out there about COVID-19.
Whether you're a student stressing about exams, or self-employed and worried about work.
Here is some updated advice for you to put into practise immediately.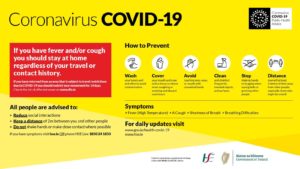 Spun out.ie have shared tips on how to keep in touch with people, what to do if you think you have symptoms and how you can best help in your community.
Also, how important it is for us to only seek official information.
Constant updates about #Coronavirus cases in Ireland and abroad have left many people feeling anxious. Here are things you can do to ease anxiety around #Covid19 - https://t.co/mjI5NALKRH#COVIDー19 #CoronaVirusUpdates #LockdownIreland #COVID19ireland pic.twitter.com/GuykjnsRmf

— spunout.ie (@SpunOut) March 14, 2020
Beware of fake news and keep up to date by following official government social media channels. The HSE have shared some helpful tips about hand hygiene and preventing the spread of Coronavirus.
Learn about hand hygiene and preventing the spread of #Coronavirus pic.twitter.com/KLLBUckV4N

— HSE Ireland (@HSELive) March 13, 2020