In March of this year, Hermitage Green announced their first Irish show of 2019 on July 27th at Limerick's King John's Castle, but now due to high demand following a sold-out first show a second date has been added on July 26th and SPIN South West are delighted to be announced as  the official Media Partner. Tickets are on sale now and are expected to go fast.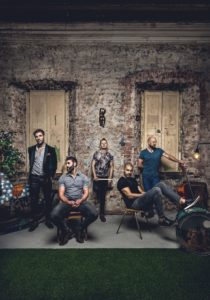 And to make the day even better Hermitage Green have just released their brand new single "Heaven". The single is about wrenching the idea of an afterlife into every day and at its core explores how Heaven or Hell can be within your reach, depending on how you choose to live your life. It follows the release of their most recent EP "Gold & Rust" and their touching cover of "Dreams", a tribute to The Cranberries and the late Dolores O'Riordan which garnered worldwide applause. "Hermitage Green wowed Electric Picnic with a spine-tingling cover version of The Cranberries' Dreams," exclaimed Limerick Leader.
Having just returned to Ireland from selling out their inaugural 9-show theatre tour across Canada, the past year has seen Hermitage Green filling concert halls around the globe. This includes a sold-out tour of Doha, Qatar, Dubai, United Arab Emirates as well as Sydney, Perth, Melbourne, Australia. Closer to home highlights include a sold-out King John's Castle last June, entertaining thousands of fans at Electric Picnic and a sold-out winter tour across Ireland.
"Heaven" is available across all streaming platforms now.