A supermarket in Amsterdam is now the world's first plastic-free aisle.
Situated in a new pilot store of Ekoplaza, a popular supermarket, the aisle will boast more than 700 plastic-free products including: meat, rice, sauces, dairy, chocolate, cereals, yogurt, snacks, fresh fruit and veg.
Packaging will be made from new compostable bio-materials as well as traditional materials (think: glass, metal and cardboard).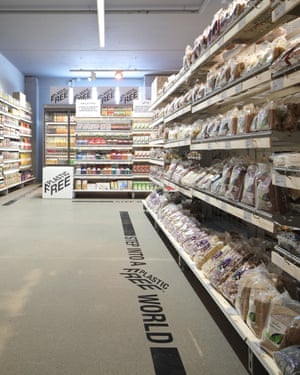 The idea came from 'A Plastic Planet' international environmental campaign group and Ekoplaza has plans to roll it out across 74 branches by the end of this year. 
Goods within the aisle will all bear the 'Plastic Free Mark', a new label introduced to help shoppers quickly identify products that are free from plastic packaging.
The move comes one month after Theresa May called for the end of all avoidable plastic waste by 2042, announcing the possibility of a "takeaway tax" on single-use plastic items.
Co-founder of A Plastic Planet, Sian Sutherland, described the pilot scheme as a "landmark moment". 
"For decades shoppers have been sold the lie that we can't live without plastic in food and drink," she said. "A Plastic Free Aisle dispels all that. Finally we can see a future where the public have a choice about whether to buy plastic or plastic free. Right now we have no choice."