The Irish Cancer Society Colour Dash Is Back.
The most colourful event in the Irish Cancer Society's fundraising calendar is back for 2019, as the Society today launched Limerick Colour Dash and SPIN South West is proud to be the Official Media Partner.
Taking place on 15th June in UL.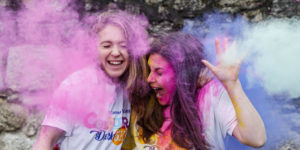 Irish television and radio presenter Lisa Cannon, whose mum died from cancer, urged dashers of all ages to inject some colour into summer 2019 and sign-up for the colour-soaked 5K fun run.
Limerick Colour Dash will take place on 15th of June in UL and early bird tickets are now available - purchase one adult and one child ticket and receive one child ticket for free.
As 'dashers' run, jog and walk the course, at each kilometre, they are doused from head to toe in a different colour of powder paint, representing a different type of cancer and cancer survivorship.
All money raised will be used to help the Irish Cancer Society meet increased demand for its free services for cancer patients and their families in Limerick and across the country.
Launching Limerick Colour Dash 2019, Lisa Cannon said:
"Colour Dash is a fun way to get some exercise with all your friends and family, and a great way to fundraise to help the 40,000 people in Ireland who will get a cancer diagnosis this year. Most of us know people whose lives have been touched by cancer. I lost my mum to lung cancer in 2008. Colour Dash sponsored by Aldi is a one-of-a-kind event that is less about speed and more about a fun colour-filled day that all the family can enjoy. We are hoping as many people as possible will come out to support the event in Limerick. I would encourage everyone to sign up at cancer.ie/colourdash  to help support the fight back against cancer."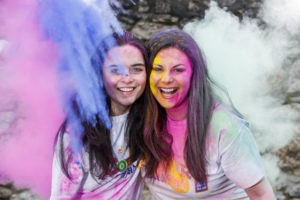 Registration
Registration for the 2019 Colour Dash is now open.
Tickets start at €30 for adults & €5 for kids under 12.
Spaces are limited as the event is expected to sell out fast.
You can grab your tickets here.