News for all you Friends fans as Lisa Kudrow admits she struggled to play her character Phoebe Buffay!
It's the show that keeps on giving even though it ended back in 2004.
But, now one of the stars cast has come out to say she struggled to play her character.
Lisa Kudrow who played Phoebe Buffay has revealed that she "struggled" to play her kooky fun-loving character.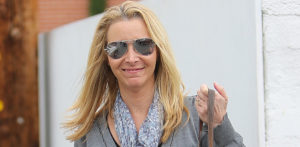 Speaking to comedian Kevin Nealon on his YouTube series Hiking with Kevin, the friend's star said she struggled during the show's first three seasons.
"I had played dumb girls for sure, but it wasn't really me," Lisa explained. "I feel like, 'S**t, I tricked them'.
"At the audition, I feel I was the only one who could cope with the audition process, and that's how I got it, I think."
Kudrow revealed that her co-star Matt LeBlanc helped her get on track with the character.
"I had to work hard at being Phoebe, then third season in I was struggling so much. And LeBlanc was like, 'What's going on with you?' and I was like, 'I don't think I have it. I don't know what I'm doing'.
"He said 'You're her, relax, you got it, you've been doing this f*****g character for three years. You're working too hard, that's your problem. You don't need to work as hard.'"
All being said, I think everyone will agree that Lisa did an amazing job playing the Character of Phobe and we couldn't imagine anyone else playing that role.