Is it just me or is everyone breaking up a the moment?
First Dua Lipa & her bf Iaasac Crews, Now Bradley Cooper and Irina Shayk have split up.
Bradley & Irina started dating back in 2015.
PEOPLE confirmed the split in the early hours of Friday morning with the pair refusing to give further comment.
They are now working out how they can share custody of their two-year-old daughter, Lea De Seine.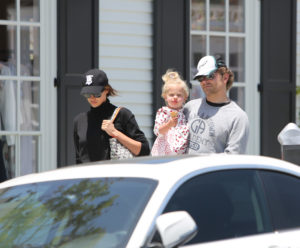 Page Six reported last week that Bradley's marriage with model, Irina Shayk was "hanging by a thread", saying;
"Things are not good. Neither one is happy. The relationship is hanging by a thread."
This split follows rumours that Bradley was having an off-screen romance with co-star Lady Gaga during the filming for A Star Is Born.
Lady Gaga later denied these rumours saying it was nothing more than on-screen chemistry and that Bradley had a vision that she was happy to take part in bringing to life.
Fans have been reacting to the news on social media;
One year ago the first trailer for A Star Is Born was released.
Today Bradley Cooper and Irina Shayk announced their breakup
Coincidences?@ladygaga it's your fucking time.

— IamDannyKenny (@IamDannyKenny) June 7, 2019
"Bradley Cooper and Irina Shayk are officially done" Alexa play Lady Gaga pic.twitter.com/Fvy40SMYcc

— Yamelin (@thatgomzlove) June 7, 2019
Actual footage of Lady Gaga and Irina Shayk fighting over Bradley Cooper:
pic.twitter.com/oMXd15goyH

— Vogue 2008 (@vogue2008) June 7, 2019
I just hope everyone has a Good Friday & Irina Shayk knows she's 10000% hotter than Bradley Cooper.

— Crystal with a Sí (@LilfootLanolin) June 7, 2019
Se separan Irina Shayk y Bradley Cooper.
Lady Gaga: pic.twitter.com/nQDfjI18h1

— Rafael Arias (@nomesecuestres) June 7, 2019