On Sunday, September 17th, 2023, at the Munster Wedding Extravaganza, ONE LUCKY COUPLE will win an entire wedding package at the Radisson Blu Hotel & Spa Limerick in 2024 plus SO MUCH MORE! The only prerequisite, you MUST BE ENGAGED!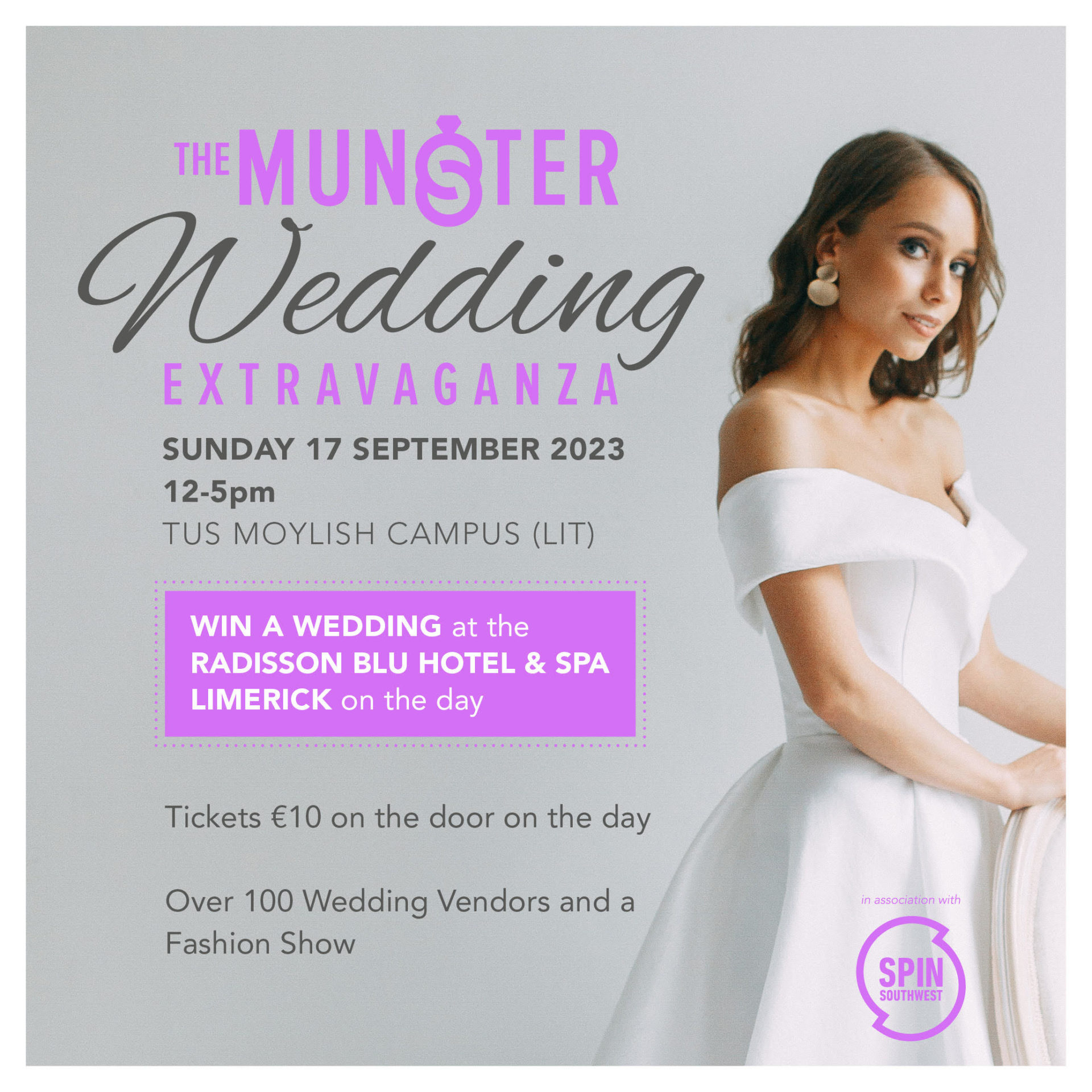 One extremely lucky couple who will attend the Munster Wedding Extravaganza in Limerick on the day will be chosen as the ultimate winner. It could be you! *T&C's apply.
The prize
THE "DREAM WEDDING PACKAGE" FOR 120 GUESTS AT THE RADISSON BLU HOTEL & SPA LIMERICK
The Extras:
Wedding Photography Package – Tony Clancy Photography, Yearn Package
Wedding Celebrant - Spiritual Ceremonies or Marry Me Weddings - Full Wedding Ceremony
Carnival Corner - Candy Floss, Popcorn Machine, Nachos
Ceremony Music - Kayla McDonagh
Phone booth messages - Sensational Events
Pressed Bouquet - Pressed Flowers by Nell
Ceremony décor - A Wedding by Caroline
Dress- Cleo Bridal, Nenagh- €500 voucher
Cake -Cakes by Deborah- €500 voucher
Entertainment - Magician James O'Connor -€250 voucher
Wedding Band - The Experts Wedding Band -€500 voucher
Day 2 entertainment – DJ Frank Nestor- 50% off day 2 entertainment packages
Photo Sharing App - TakeNplace
Couples Gym Membership - 3 months couple membership for the fitness club
Please note extras are only available if the supplier has the available date.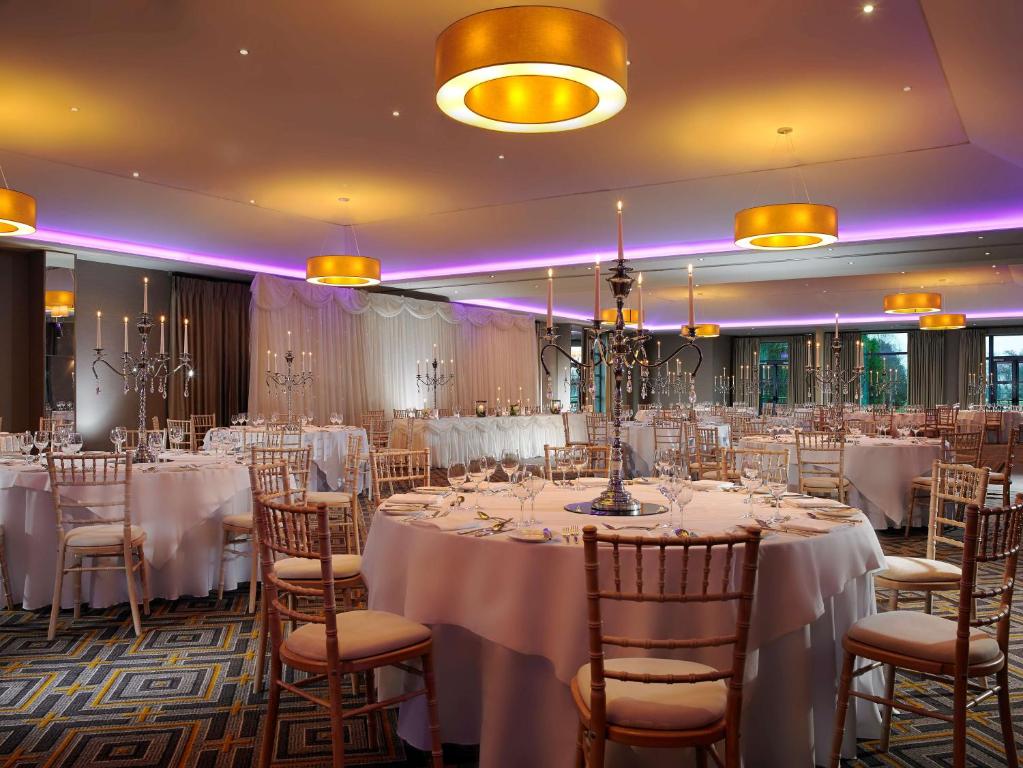 HOW TO ENTER
Fill in the form below!
(Note- ONLY one entry per couple. Entries will close on Thursday, Sept 14th at 5pm)
-Couples (or one person from the couple or someone representing the couple) MUST be in attendance in person at the Munster Wedding Extravaganza on Sunday, Sept 17th at TUS Campus, Moylish Park, Limerick, V94 EC5T. The show will take place from 12-5pm.
-Four couples will be chosen randomly from entry forms and one will be chosen randomly on the day.
-Five couples will be brought on stage after the Fashion Show, a draw will take place and the winner of this amazing prize will be crowned. There will be small runner up prizes for the remaining four couples.
The Radisson Blu Hotel would love to welcome all the entrants to an open viewing day on Sunday, September 3rd from 2-5pm where they will be joined by the amazing suppliers included in the giveaway.

Ø The prize is based on 120 guests, any extra guests will be charged at €70pp
Ø The wedding date is subject to availability.
Ø All finalists must be free to attend the Munster Wedding Extravaganza on Sunday September 17th 2023 at the TUS campus.
Ø The wedding prize is valid until December 31st, 2024.
Ø Suppliers' vouchers are based on having availability for the chosen date
Ø Vouchers or services cannot be redeemed/ exchanged for other services or monetary values/ cash
Ø All winning couples may be featured in newspaper articles, advertisements, blogs and other social media directly associated with The Radisson Blu Hotel and Spa Limerick. Photographs and video of the winning couple' weddings may be shared by The Radisson Blu Hotel and Spa Limerick and its suppliers on social media and other advertisement mediums.
Ø Prize is nontransferable
Ø Prize cannot be used in conjunction with any other offer
Ø Couples must be engaged at the time of entering the competition
Ø If for any reason a couple cannot use an element of the prize, it is then null and void.
Ø Radisson Blu Hotel and Spa Limerick have entered into agreements in good faith with all the wedding suppliers included in the win a wedding competition. Should any supplier fail to honour their agreement to provide services, Radisson Blu Hotel and Spa Limerick will not be held responsible to replace that service. Should a supplier as part of the win a wedding competition not be available on your requested date and an alternative date cannot be arranged between you unfortunately no substitute supplier can be replaced, and the hotel is not liable for replacing a supplier.
Ø Additional T&Cs may be put in place by prize sponsors
Ø Closing date for entries is Thursday, Sept 14th at 5pm.
Ø The Munster Wedding Extravaganza has no responsibility or liability attached to the Win a Wedding. The event is only hosting the giveaway on the day and takes no responsibility for amendments or changes to the prize.