Time to get that bread... literally!
Storm Lorenzo is almost here and here is everything you need to know before it hits.
Expect power outages, flooding and high winds.
A status orange wind warning has been issued for six counties and a status yellow warning nationwide between tomorrow evening and Friday morning, when Storm Lorenzo is expected to make landfall in Ireland.
The orange warning for Galway, Mayo, Clare, Cork, Kerry and Limerick will be in place from 6pm Thursday to 3am on Friday.
#BREAKING: National Hurricane Center says Hurricane #Lorenzo has become an extratropical storm.#StormLorenzo pic.twitter.com/K5YtONIcBo

— BreakingNAgency (@BreakingNAgency) October 2, 2019
Here's the outlook according to Met Eireann;
Our warnings for #Lorenzo have been updated.

See warnings here https://t.co/ozrQHtoOkt

Our meteorologist's commentary has now been updated

See here : https://t.co/ktXtWjbfIg

— Met Éireann (@MetEireann) October 3, 2019
... gale force southwest winds with severe and damaging gusts in coastal counties of the southwest and west. Heavy rain will move into Connacht and west Ulster also.#stormlorenzo pic.twitter.com/cpoCZfp8x6

— Met Éireann (@MetEireann) October 3, 2019
There is a high probability that Storm Lorenzo will track close to or over Ireland later on Thursday and early Friday. There will be very high seas on Atlantic coasts and severe winds in some areas.

Thursday night: The centre of Storm Lorenzo will move east to southeastwards over Ireland on Thursday night with the strongest winds situated to the south of the storm centre. It will become very windy or stormy in Atlantic coastal counties overnight as winds veer westerly in direction. The swathe of strong winds will then transfer eastwards across the country during the night with the risk of inland gales across parts of Connacht and Munster. Squally bands of rain will accompany the strong winds with isolated thunderstorms possible, bringing a risk of spot flooding. Minimum temperatures of 10 to 14 degrees.

Friday: Strong winds and squally rain associated with Storm Lorenzo will clear during the course of Friday morning with some sunny spells developing in the afternoon. Highest temperatures of 15 to 18 degrees. It looks set to be dry at first on Friday night but outbreaks of rain will move in from the southwest later. Minimum temperatures of 9 to 12 degrees in moderate southeast winds.
The minister for housing said;
Minister for Housing, Planning and Local Government Eoghan Murphy has said Storm Lorenzo will have an "unpredictable impact" on Ireland but flooding and power outages will be likely.
Mr Murphy was speaking after Wednesday's meeting of the National Emergency Co-ordination Group in Dublin, at which preparations for the storm were discussed.
He said the weather conditions will have a different impact in different parts of the country and the crisis teams are on standby to deal with any situation that may arise as a result of the wind and rain.
The Head of Forecasting at Met Éireann said Storm Lorenzo will have significant and disruptive impacts in parts of the country.
Evelyn Cusack said that while there could be Status Red impacts in some coastal areas, Met Éireann does not expect the current weather warnings will be upgraded.
She said Lorenzo will bring "violent storm force winds" for a time tomorrow evening, with some coastal flooding and coastal damage likely. She also said there will be heavy rain and thunderstorms with lightning.
Joint statement on behalf of Limerick City and County Council, HSE Mid West, An Garda Síochána' (Updated 3pm 03/10/2019)
The Severe Weather Action Team and the Local Co-ordination Group met earlier today to discuss preparations for the arrival of Strom Lorenzo. 
The ORANGE Wind Warning remains in effect for Limerick according to the latest information from Met Éireann, however the validity has been extended and is now from Thursday 03 Oct from 6pm until Friday 04 Oct at 6am.
The weather forecast predicts south-easterly gales. Expect the storm centre to go across Ireland from the Northwest. It appears to be losing some intensity as it crosses Ireland.
The YELLOW Rainfall warning for Limerick has been removed, while the YELLOW Wind Warning for Limerick is in place now until 6pm this evening [Thurs 03 Oct].
Further meeting were held today by the Severe Weather Action Team and the Local Co-ordination Group to update the preparations for the arrival of Storm Lorenzo.
It is extremely important to emphasise that while Met Éireann is saying the storm is losing intensity, there is still an ORANGE Wind Warning in place with mean speeds of 65 to 80km/h with gusts generally of 100 to 130km/h, higher in coastal regions. Storm surges will produce coastal flooding and damage.
Closures:
All Council-run Libraries, Galleries, Museums, Parks and Playgrounds will close at 5pm this evening (Thursday 03 Oct)
They will re-open as usual on Friday (clean-up/ storm damage dependent).
Customer Service:
Limerick City and County Council's Customer Service Department will remain open for telephone calls until 11pm tonight. The number to call is 061 556000.
The out of hours number is 061 417833
Flooding:
Indications are there will be no threat of flooding in Limerick, however we have put precautions in place.
We are monitoring the Estuary in areas such as Askeaton and Foynes and as a precaution defence measures will be taken.
Temporary flood defences are being deployed along the quays and strands in Limerick city centre but only as a precaution and as an additional barrier as winds are expected to be very strong.
Due to the high wind and spells of rain predicted, there is a potential risk of localised spot flooding in places. Fallen leaves and branches may lead to drains being blocked.
Drains have been cleared in anticipation of Storm Lorenzo, and the advice to businesses and property owners is to make sure drains are clear.
Homeless:
The 9am to 9pm Service (TEP) will be open from 4pm this afternoon and for additional hours on Friday morning 06 Oct.
McGarry House is providing additional temporary beds in the event that they are required.
All Hostels on alert in terms of communicating with Residents to avoid be out doors during the warning.
The Homeless Emergency contact number is 1800 60 60 60
The Local Co-ordination Group also convened another meeting comprising of Limerick City and County Council, HSE Mid West and An Garda Síochána to discuss preparedness for the storm.
The key messages are for people to stay safe during this weather event. Driving conditions will be hazardous and you need to take care and be conscious of cyclists and pedestrians. Flying debris, fallen trees and power lines are a risk.
People are being asked to take care in ORANGE alerts counties including Limerick. Please don't put your life and the lives of response teams in danger during this period by taking unnecessary risks.
Limerick City and County Council's crews remain on standby to deal with any issues that may arise, once it has been deemed safe to do so.
Please note the associated clean-up which will commence on Friday morning will impact on traffic.
The Local Co-ordination Group is appealing to everyone to secure anything that could blow away such as secure garden furniture, trampolines, flower pots etc as these could be turned into missiles in the wind.  Take them indoors if possible and don't leave wheelie bins outside on footpaths or at front of houses.
Outdoor workers are also being asked to secure any loose items on construction sites or road works sites.
Members of the public are being urged to exercise caution during this storm and not to take unnecessary risks.
Please check on neighbours and friends who may be less mobile and who may need some assistance ahead of the storm.
The public is again reminded to monitor Met Éireann forecasts for their area and to be aware of the weather conditions and to heed safety warnings. Information is available across social media platforms and other traditional media sources.
Weather Warnings ( Updated 1pm 03/10/2019)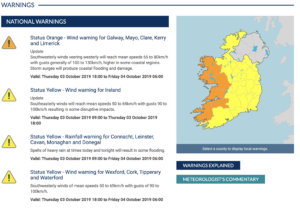 Weather Advisory for Ireland
The effects of Storm Lorenzo will begin to be felt across Ireland from Thursday morning, easing Friday morning. The main impacts will include disruptive winds, falling trees and flooding.
In early October, trees are mostly in full leaf with a large surface area, so even moderate strength winds can bring down weakened trees and/or tree limbs. In addition, some trees may be compromised due to saturated soils at the moment, and with more rain forecast with Storm Lorenzo some disruption due to falling trees/branches is likely. Heavy rain, coupled with falling leaves may block drains and gullies, leading to surface flooding.
Coastal:
Storm Lorenzo will produce significant swell, high waves and sizeable storm surges. This will lead to wave overtopping, some coastal flooding and damage, especially along western and southern coasts.
Surface Flooding:
Saturated soils and the expected heavy/thundery rainfall may lead to surface flooding.
River:
River levels are currently elevated across the country and the rainfall may lead to river flooding, especially in parts of the midlands and west. River levels will continue to rise after Storm Lorenzo has passed.
Transport
Met Éireann has issued warnings for Storm Lorenzo tomorrow - Status Yellow across the country from 9am, followed by Status Orange for some western coastal counties in the evening.

We'll have updates at https://t.co/PSzIBsvOzE - check our advice for driving in wind & rain below. pic.twitter.com/CKvTwBP3ar

— AA Roadwatch (@aaroadwatch) October 2, 2019
Road Safety Alert: Orange and Yellow Weather Warning for Strong Winds and Heavy Rain.

Advice on how to stay safe during #StormLorenzo here https://t.co/QF9ePe5YKF pic.twitter.com/HjjOQBZX3V

— RSA Ireland (@RSAIreland) October 2, 2019
Airports
If you are flying this week and on Thursday & Friday, check with your airline for updates.
#StormLorenzo is due to arrive at 18:00hrs this evening. We continue to monitor the situation. If you are concerned about a flight time, please check with your airline for up-to-date flight info. We will keep you updated across our social channels. Thank you. pic.twitter.com/Cm2125U5hZ

— Shannon Airport (@ShannonAirport) October 3, 2019
#StormLorenzo is due to arrive tomorrow & we are monitoring conditions. The worst of the weather is expected between 6pm Thurs & 3am on Friday. We will keep you updated on any potential impacts. Passengers travelling Thurs/Fri please check directly with airlines for updates. pic.twitter.com/m8UCcDQcXV

— Shannon Airport (@ShannonAirport) October 2, 2019
A status orange wind warning has been issued for 6 counties & a status yellow warning nationwide between tomorrow evening & Friday morning.
The orange warning for Galway, Mayo, Clare, Cork, Kerry & Limerick will be in place from 6pm on Thurs to 3am on Fri morning. #stormlorenzo pic.twitter.com/MDElIxPu3Q

— Cork Airport (@CorkAirport) October 2, 2019
It is too early to tell whether #stormlorenzo will affect flights @DublinAirport later this week. If you are due to travel on Thurs/Fri, please check with your airline/airline website closer to your flight time & continue to check this account for general updates. #lorenzo

— Dublin Airport (@DublinAirport) October 2, 2019
Bus
According to the Bus Eireann website;
All services provided by Bus Éireann under the Department of Education and Skills School Transport Schemes will be cancelled in the affected area if a Status Red warning is announced for all or part of a given day.
Train
Keep an eye on Irish Rail's Twitter for updates on services.
All routes are currently expected to operate tomorrow Thursday 3rd October. However, we will update customers should #stormlorenzo impact on services in any way

— Iarnród Éireann (@IrishRail) October 2, 2019
Storm Saftey Tips And To Do's
Download the SPIN App for updates throughout the storm on SPIN South West.
You can also download theMet Éireann App and get push notifications of weather warnings.
Go to the Warnings Section, tap on My Warnings, click Add and select the Area, Level & Type of warning notifications you want to receive.
Emergency Phone Numbers
Public transport
Airports
Ferries
Services
ESB - To report an outage Tel: 1850 372 999 / 021 2382410
Rescue services
In an emergency dial 999 or 112
School closures
Schools - Contact local schools
#StormLorenzo
People have been reacting to the storm online, with the #StormLorenzo trending on Twitter currently.
Everyone in Ireland waiting to see if they get a day off tomorrow...😂#StormLorenzo pic.twitter.com/TL7XHP2Fh2

— Mairéad Ní Chuaig TG4 ☀️ (@MaireadNiChuaig) October 2, 2019
Ireland during a major storm: C'mon make it a red weather warning so we can have the craic, buy all the bread and go to the pub

Rest of the world during major storm: stocks up on essentials and hole up safely.#stormlorenzo

— Stephen Twist Kearns (@TwistedIdiot) October 2, 2019
Ya know what this hurricane needs?

More bread jokes.

— Sharron Lynskey (@sharronlynskey) October 2, 2019
All jokes aside, Stay safe during the storm.