13 more Covid-19 deaths have been confirmed and 1,269 cases.
221 of the cases are in Meath, 203 in Dublin, 116 in Cork, 80 in Cavan and 649 cases are spread across all remaining counties.
312 patients are in hospital with disease.
From those, medics are treating 34 in intensive care units.
BREAKING: 13 additional deaths reported. 1,269 new cases confirmed

— Kacey O'Riordan (@KaceyORiordan) October 20, 2020
Coronavirus - It's Down To Us Now Says CMO
While the Chief Medical Officer, Dr Tony Holohan, it's now down to everyone to stop this.
"We have a substantial burden of infection that's increasing within the population."
He says he, "can see substantial changes in the hospitalisation rate."
"We have reported a significant number of deaths today."
"All of those from recent days."
"This is telling is that the burden of infection and the impact it's having is increasing."
"The government has made a series of very significant decisions in recent days."
"Now it's over to us as individuals in society to do everything that we can."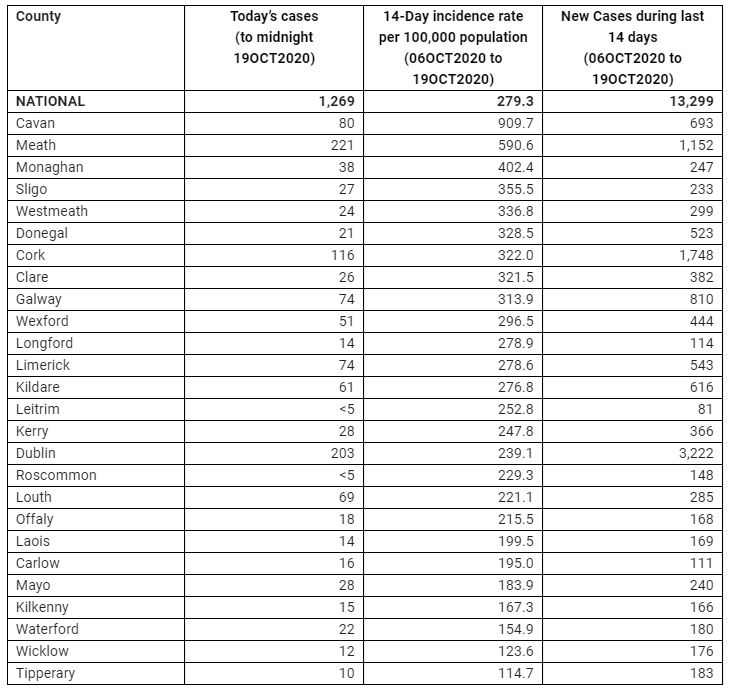 Doctor Wants Test And Trace Expanded
GP Maitiu O'Tuathail says the first lockdown was inevitable.
He called the second 'unfortunate' and if there's a third it will be 'unforgivable'.
Maitiu has also called for a dramatic expansion the contact tracing system, and include cross border tracing;
"Most people are able to get a test within a day and a result within two days."
"However contact tracing has essentially collapsed."
"We simply don't have the capacity to contact trace a thousand people every single day in Ireland."
"So I think that's why there's a pressing need to lock down."
"We need to pull those numbers back so we can contact trace them again."
We need to use these 6 weeks to fix the critical issues that exist in the fight against #Covid19

Contact tracing being number 1!

1. We need an all island contact tracing system

2. We need to dramatically increase the number of contact tracers

We need to do this yesterday 👍 https://t.co/0qnPJfxBS2

— Maitiu O Tuathail (@DrZeroCraic) October 20, 2020
Additional Reporting From Kacey O'Riordan At The Department Of Health